The deeply-religious Latino comunity isn't really so, study shows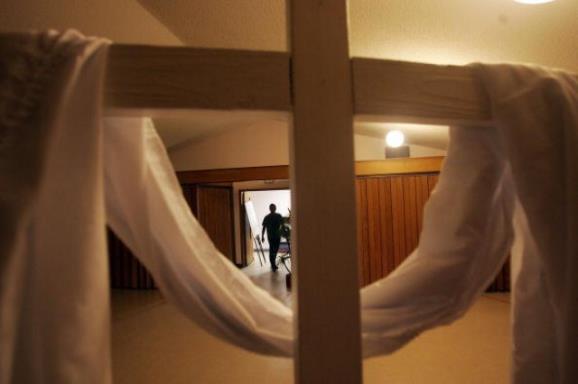 My grandfather, an aunt and my own father are ministers. Many family members from their generation are profoundly religious. I am not. I have chosen to express my faith in ways that are a departure from tradition and organized-religion. I don't go to church every week, make decisions rooted in a combination of beliefs and intellect rather than on a particular theology, and I am no longer afraid of hell.
In my close-knit group of Latino friends I am the norm, not the exception. Among us, there are also self-declared atheists, a few agnostics, and others too indifferent to religion to even care to pick a category.  It turns out we are a microcosm of what's happening with Latinos and faith in the U.S.
A study out this week brings down a myth that's has been perpetuated too long: that Hispanics are deeply religious.  We are not.  Almost all of us have a Bible at home but only about 10 percent reads it regularly. Only 17 percent of the surveyed by the Barna Group study said they had a favorable opinion of Christian churches.
It seems that as we get acculturated and shed some old traditions for new ones, religion becomes a casualty of our integration.  It begs the question, why?
I won't purport to know the answer. I can only speak for myself. Growing up, the religious community was often a source of discomfort because no matter how hard I tried to conform, I couldn't.  The rules in my fundamentalist, protestant church community were too many and too much for my teenage brain to accept by faith. Mind you, I'm not talking basic doctrine here. It was everything from what one was allowed to wear, to what music and books were ok and much more. Hell would be waiting for you if you strayed.
This is all too common in Latin-style religion. We bring into churches the same intense passion we have for life. But there is such a thing as too much passion. It is call being overzealous and that zeal breeds control, fear and oppression.
As I matured into my own skin, I felt comfortable openly rejecting what I had never believed but was afraid to say so. The fact that I was then in the U.S., where so many other religions and philosophies coexist, gave me a sense of freedom to explore my dissatisfaction with my childhood religion and develop convictions that were my own.
I am keenly aware that my experience, if common, isn't universal. Many find comfort, purpose and direction in religion. Others don't. For those in the second group it doesn't mean we have stopped cultivating spirituality and seeking a relationship with a higher power. It simply means we have found religion to be an obstacle to achieving that.
Are you sure you want to delete this comment?
Jeannie Rivera

Jeannie Rivera is an independent writer and former newspaper reporter who lives in Central Florida with her family, a guitar, a few orchids and a bunch of books. She doesn't have pets and this is unlikely to change. She's penned stories for The Miami Herald, The Orlando Sentinel, BBC Mundo, AOL and others. She was raised in Puerto Rico where she learned to sing, cook good food, be a good mom and throw boisterous parties (she gets great story material from these.) She enjoys traveling, good wine, great books, her two boys and sleeping.