Who is Ted Cruz?
The rhetoric of the future senator from Texas clashes with his story.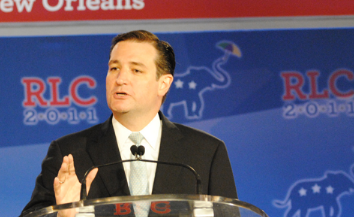 With Rafael Edward 'Ted' Cruz, 41, competing for a Senate seat in Texas, another Latino has made it to the big leagues of American politics. And he has quite a story. Canadian-born Cruz, a Harvard Law graduate, is the son of a poor Cuban immigrant and an Irish-Italian mother. Now a father of two girls with his wife, Heidi, Cruz clerked for former Supreme Court Chief Justice Rehnquist before becoming Solicitor General of the State of Texas and the new Tea Party darling.
Eat your heart out Marcio Rubio!
But who is Ted Cruz, really? Defining Mr. Cruz is no simple task.  But one thing is for sure, he will be the next junior senator of the great state of Texas. You can take that to the bank, this is Texas we are talking about- a state that hasn't sent a democrat to the senate since 1988.
In an extremely alienated and bitter primary, the Cruz camp exploited "moderation" as being the main weakness of his conservative opponent (who knew "moderation" could be a negative. It has always been a positive in my book). Cruz resorted to a very extreme rhetoric –all the way to the right of the right – in his effort to secure a spot.
Such place may sound pretty scary for those of us who don't live in that rarified atmosphere, but that is where the GOP primary votes are and Cruz was very effective in earning those votes.
Cruz hasn't been shy about his opposition to the DREAM Act and anything that in any way resembles amnesty or any effort to grant legal status to paperless immigrants – that includes children and teens who have never known any other country.
He is categorically opposed to what he refers to the "gay rights agenda" and has vowed to do all he can to repeal every last word in the Affordable Care Act or "Obamacare" and that includes popular provisions like banning insurance companies from rejecting people with "preexisting conditions."
Cruz has promised that compromise will only be possible when the other side of the aisle folds to his way of thinking, which makes you wonder, why would he even want to be a senator in the first place? After all, the senate is a deliberative body by design where compromise is essential to getting work done.
Charismatic, young, and bright, Cruz has a compelling and attractive personal story with his Ivy League education, high caliber legal mind, and 80 Supreme Court briefs under his authorship. He doesn't have the age and simpler character one may normally associate with such extreme conservatism and intolerance – so much for my stereotypes.
To his credit Mr. Cruz did tone down his rhetoric, if only just a few notches, in the last days of his campaign when his victory was certain. Maybe in search of some conciliatory credentials in view of the long and rocky road that lays ahead.
The question still remains: Who is Ted Cruz? We will find out soon enough.

mr cruz may have a had poor parents, but he went to private school. he developed into a conservative, high dollar lawyer who is married to a goldman sachs exec. the part that is confusing is his play-like tea party affiliation. dewhurst was just a bigger phony. he shepherded the small business income tax into law and showed the usual contempt for the middle class. cruz can stay in the senate forever, since he is a republican from texas. however, it is not likely that he will do any more than cornyn. get a comfy seat in the senate and eat high price dinners with lobbyists.


Who is Ted Cruz?  A real American whose priorities are the USA: not his narcisstic ego like we have dominating the policitical scene...more real Americans of generations are standing up to the tyrannical EVIL possessing our elected officials: EVIL vs good--which side is your soul bought and paid for?
Are you sure you want to delete this comment?
Jeannie Rivera

Jeannie Rivera is an independent writer and former newspaper reporter who lives in Central Florida with her family, a guitar, a few orchids and a bunch of books. She doesn't have pets and this is unlikely to change. She's penned stories for The Miami Herald, The Orlando Sentinel, BBC Mundo, AOL and others. She was raised in Puerto Rico where she learned to sing, cook good food, be a good mom and throw boisterous parties (she gets great story material from these.) She enjoys traveling, good wine, great books, her two boys and sleeping.