Breasts: Bigger isn't always better
Breast and buttocks augmentation are the two types of surgical enhancement most sought out by Latinas. Why?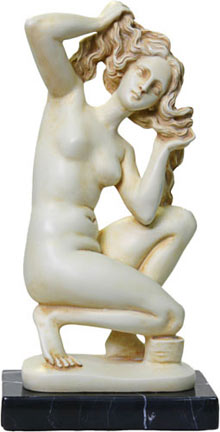 As I stood surrounded by Greek statutes at the Louvre Museum a couple of years ago, I felt relieved for not having enlarged my breasts as I once considered. The exquisite women of marble that stood proud in the world's most famous art temple were all small breasted, I noticed. And if the ancient Greeks thought they defined beauty, who am I to argue the point?
Like many other Latina women, I too considered implants at one point. The breasts I was born with never evolved much beyond their prepubescent stage. At the time I was thinking of silicone I was living in Miami, a city that worships beauty and plastic surgeons, big breasts, small waists and buns of steel.  All around me were impossibly perfect bodies and sculpted faces. I fell into the trap of wanting to conform.
But when push came to shove –in my case, having the money in hand- I couldn't do it. I struck me hard that I wouldn't be doing this for myself, but to fit in. I was competing with the Joneses, caving to social pressure. I'm glad I snapped out of it.
We're not all voluptuous like JLo or Sofía Vergara. We come in all shapes and sizes, the product of a mix of races from all over the globe. Yet, more than any other group we seek to enhance through plastic surgery the ethnic stereotypes about us. We want big boobs and a round, perky butt. Curves and more curves.
So much, that a story in the New York Times about this topic reported that cosmetic surgeons in some heavily Hispanic areas of the city had carved specialties out of tending to our specific demands. They make their money dispensing breasts and butts. One woman told the paper that  "we Latinas" define ourselves through "our curves" and that she had her breasts augmented because they didn't fit her boisterous personality. As if she was matching shoes to a purse.  A doctor quipped that while in Long Island women pay to get the fat out of the rear ends, in Washington Heights the opposite is true.  His patients, he said, wanted "to look more Hispanic" not less.
What does that mean? Hispanic is not a race so there isn't a set of characteristics we can easily attach to how we look. Except, of course, when the model of what "Hispanic" looks like comes from stereotypes.
In full disclosure, you need to know that I don't oppose cosmetic enhancements, surgical or otherwise. We all use them one way or the other: whether it is the lipstick we slap on in the morning, the hair dye to cover the grey or the padding in the bra. Is the motivation what has changed for me. I no longer feel I have to conform to satisfy somebody else's ideas of how I should look. That gives me the freedom to like better what I see in the mirror.


Self esteem in a great number of Latinas is very very low and since they have been brainwashed since childhood to believe that their life's worth comes from catching a man, preferably macho, preferably with money, mating, having babies and being kept women, they therefore go to great lengths to "get" the features that attract such men, frequently with deficient levels of education and morals, though could be good looking and with money.
I can see and say this because I am a Latina, though I broke the mold and became ostracized by my peers all my life for wanting better on my own resources, I forged on and never succumbed to those pressures. I see what I am identifying in all the women I know in my country of birth: Mexico, I see it in my nieces and their friends; I see it in the "novelas" women who are the role models and the education means for the female gender. I mention my nieces and their friends because I never married, never had children by choice and did not succumb to such primal instinctive actions, since very young I knew I needed to know who I was and who I would evolve into, and not by means of landing in the throes of a macho. I know some readers will reject and perhaps even act offended by my observation, however I ask them to step out, be honest with themselves and tell the truth as to why the discomfort and rejection. There is so much behind your observation, and behind mine, though it will be centuries before the evolution of Latinas self esteem improves and "machos" learn to respect women. Machos own their "Viejas" and the "Viejas" love the irresponsibility of being kept.
Are you sure you want to delete this comment?
Jeannie Rivera

Jeannie Rivera is an independent writer and former newspaper reporter who lives in Central Florida with her family, a guitar, a few orchids and a bunch of books. She doesn't have pets and this is unlikely to change. She's penned stories for The Miami Herald, The Orlando Sentinel, BBC Mundo, AOL and others. She was raised in Puerto Rico where she learned to sing, cook good food, be a good mom and throw boisterous parties (she gets great story material from these.) She enjoys traveling, good wine, great books, her two boys and sleeping.