Traffic accidents number one killer of Latino kids
The sad statistic could be easily changed for the better if more Hispanic kids were placed in car seats.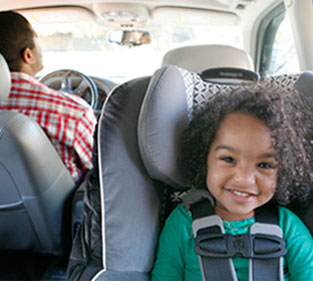 This makes me angry: A study recently released by the University of Michigan found that Hispanic children are not securely restrained in a car seat when traveling in an automobile at rates 10 times higher than white kids.
Seriously, my friends, what is wrong with some people?  Unless they've lived under a rock for the last two decades, there is no way they could've avoided coming in contact with unequivocal evidence that shows that car seats protect and children's lives.   
This is one sad statistic that we can't pin on economics, language barriers or cultural differences. Not putting a child in a car seat or not taking the time to make sure the car seat is properly installed is irresponsible. Period.
It is then no surprise that data gathered by the Automobile Association of America (AAA) reveals that car accidents are the number one killer of young Hispanics. It isn't cancer, it isn't some other terrible disease. Nope. Car accidents.
Further, Fox News reports that "Latino children are 60 percent more likely to die in crashes than non-Latino white children."
This is one sad trend that we can stop with a device that costs less than $100. And for those who don't have the money, organizations like Keep Kids Safe, some local fire departments and others offer the car seat for free. All it takes is a Google search and a couple of phone calls.
Jeannie Rivera

Jeannie Rivera is an independent writer and former newspaper reporter who lives in Central Florida with her family, a guitar, a few orchids and a bunch of books. She doesn't have pets and this is unlikely to change. She's penned stories for The Miami Herald, The Orlando Sentinel, BBC Mundo, AOL and others. She was raised in Puerto Rico where she learned to sing, cook good food, be a good mom and throw boisterous parties (she gets great story material from these.) She enjoys traveling, good wine, great books, her two boys and sleeping.