Rubio's rebuttal, same old GOP message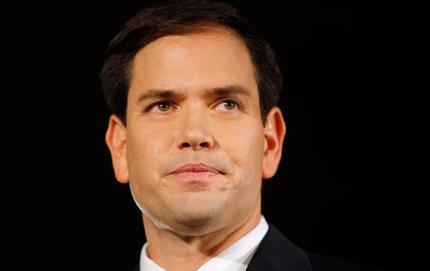 It was 1998 and I was covering a city commission race in West Miami, a small bedroom community in Miami-Dade County. Up for election was a boyish-faced, Cuban American attorney in his mid-20s, last name Rubio. He was nice, inexperienced, very open, and bright. Yet I followed the campaign with little interest, often wondering why my editors wanted to cover a race typically dominated by discussions on pot holes and best garbage pick-up days.

Boy, have I had an attitude adjustment since.

As U.S. Senator Marco Rubio, R-Florida, delivered his rebuttal to the State of the Union speech Tuesday night, I clung to his every word waiting for the substance to come. It never did. To me, this is the most perplexing aspect of having followed and covered Rubio's career since its inception. I have seen a charismatic, shrewd, daring, and innovating leader turn more and more into another Washington mouthpiece repeating the same old things. Is that what it takes to be part of this country's political elite?
What did we learn from Rubio's rebuttal (other than thou shall always keep a bottle of water within arm's reach when speaking publicly)? Let's see, we learned that his parents are working class immigrants, that President Obama hates jobs, wants to bankrupt Medicare (even though Obama called for reform of the program during his speech), that Obama is "obsessed" with raising taxes, and that "more government" doesn't create jobs. It creates uncertainty and more taxes. These are all mantras we've heard a gazillion times before that have, by the way, failed to entice voters.

This was Rubio's opportunity to separate himself from the pack and position himself as presidential. It was his opportunity to give fellow Hispanics, a key demographics that has turned away from the GOP, a reason to reconsider. But that would've required departing from the same old, tired talking points that have caused Republicans to lose election after election. It called for refreshing the message and that didn't happen.
Rubio's speech sounded more like a continuation of the debt ceiling debate that has dominated the national political discussion in the last couple of months. It mattered little that it was him delivering the rebuttal if the script hasn't changed in weeks. This time, it was a more photogenic GOP member delivering it, not much of a change for a party in need of CPR to remain relevant.

Even Rubio's line on military cuts, "we don't have to raise taxes to avoid the President's devastating cuts to the military", sounded tired and broken-record-like. Ironically, cost-saving Republicans don't want to see reductions in the Department of Defense budget, a whopping $819 billion a year.

Absent from Rubio's speech were ideas on how, for instance, should Medicare and Social Security (which he alluded to) be fixed. There was also no reaction to Obama's speech's pivotal points like voters' rights, a minimum wage hike to $9 hourly, universal access to preschool education, and the new "G" word - gun control. Rubio made no comments either about the troops coming home.

The Republican Savior showed no new strategies or ideas for saving his party. How very disappointing.

Are you sure you want to delete this comment?
Jeannie Rivera

Jeannie Rivera is an independent writer and former newspaper reporter who lives in Central Florida with her family, a guitar, a few orchids and a bunch of books. She doesn't have pets and this is unlikely to change. She's penned stories for The Miami Herald, The Orlando Sentinel, BBC Mundo, AOL and others. She was raised in Puerto Rico where she learned to sing, cook good food, be a good mom and throw boisterous parties (she gets great story material from these.) She enjoys traveling, good wine, great books, her two boys and sleeping.