Bad Christmas music can be a good thing
There are many bad Christmas songs in the Spanish language. But who hasn't danced to the screeching voice of Burrito Sabanero's kid singer?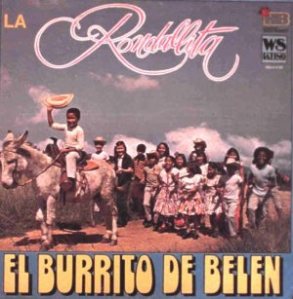 I was at a store with my dad last weekend and saw a battery-operated Santa figurine with maracas in his hands. I picked it up and it began singing José Feliciano's iconic 'Feliz Navidad' as it shook the maracas with robotic stiffness. I smiled widely. Heck, I giggled. I always do when I hear that song.
The song is tacky, unimaginative and musically beyond simplistic, but it commands fond memories the minute it I hear it. The same can be said for the 'Burrito Sabanero' , from La Rondallita Venezolana, a one-hit-wonder (or maybe two) children's group who was popular in the late seventies. When I hear the screeching voice of the kid that sings Burrito, I see my cousin Janet performing it at my grandma's Nochebuena celebration when we were both in the seventh grade. My aunts and uncles are clapping and asking her to do it again. The younger cousins are sitting on the floor, looking at her in awe because she knows the lyrics –and dance steps- to what it was then - the Christmas hit song in the Latin world. She stole the show!
There are tons of other bad Christmas songs in the Latino culture. Just listen to any of Gloria Estefan's Christmas records. How about the Spanish villancico about the fish in the river that are drinking water because baby Jesus has been born? What in world does that even mean?  The lyrics are completely nonsensical, yet I find myself singing over and over again "pero mira como beben los peces en el río…" It is catchy, it says happy, and it makes me think every time of my middle school choir and a much simpler time.
I agree with fellow blogger and music critic Juan Carlos Pérez that those songs aren't musical jewels. But unlike Juan Carlos, who cringes when he hears them, I like them. Maybe it is nostalgia, maybe it is the role they have played in the 44 Christmases I've had so far. Perhaps I treasure them because they are the one constant from my Puerto Rican childhood that have followed me everywhere I've been so far. Yes, my friends, I couldn't count on lechón asasdo every year for navidad, but I had my Burrito Sabanero and other bad songs with me in CDs that came everywhere I went.  Yep, bad music was what I could count on, but it was upbeat and it has made me happy for many years. Like the songs, not everything in life makes sense.
Are you sure you want to delete this comment?
Jeannie Rivera

Jeannie Rivera is an independent writer and former newspaper reporter who lives in Central Florida with her family, a guitar, a few orchids and a bunch of books. She doesn't have pets and this is unlikely to change. She's penned stories for The Miami Herald, The Orlando Sentinel, BBC Mundo, AOL and others. She was raised in Puerto Rico where she learned to sing, cook good food, be a good mom and throw boisterous parties (she gets great story material from these.) She enjoys traveling, good wine, great books, her two boys and sleeping.