Cooking up memories, arroz con dulce in navidad
Abuela's arroz con dulce is like no other I've ever had. But she never followed a recipe. How do I duplicate it?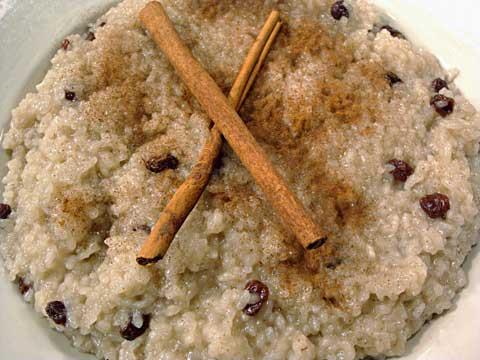 Wanting to keep a Christmas family tradition alive, my mother and I attempted to make my abuela Sara's arroz con dulce this weekend. Like most skilled cooks, my grandma never kept such a thing as a recipe. Why use cups and measuring spoons when she had eyeballs, right?
Her version of this traditional Puerto Rican holiday dessert –a rice pudding cooked in coconut milk and spices- was always creamy, with highlights of cloves, ginger and cinnamon that were always perfectly balanced.  It never had one raisin too many. But to achieve such perfection without knowing the exact proportions proved to be a challenge.
Nevertheless, the women in my family have never being the kind to shy away from difficult tasks. Armed with nostalgia, memories, two cookbooks and my aunt Lillian on the phone from Puerto Rico, we began to channel abuela.
I started by boiling the fresh spices to make the infusion in which the rice is cooked with the coconut milk.  "Don't put too many cloves, you're putting too many," my mom chimed in. "Your dad doesn't like the taste of cloves... Too overpowering."
I ignored her. "Sorry dad, but this isn't about you," I said under my breath.
"Four cinnamon sticks should be enough," mom said.  I ignored her and threw in a couple more.
Then my mom began slicing the ginger before she put it in the boiling water. What? Abuela always smashed the ginger. She never sliced it!  "Mom, what are you doing?", I objected to no avail.
We disagreed on how much rice to use, and whether to used strictly coconut milk or a combination of coconut and evaporated milk. We called my aunt Lillian on this one. She makes the best arroz con dulce in our family after abuela's. Within seconds she rendered two complete different versions of how she remembered abuela doing it. We were confused.
To make matters worse my dad, who has never cooked in his life, all of a sudden had an opinion on how long should the rice boil for. "You have to boil it for a while or it'll stay hard in the center," he said with the conviction of a Cooking Network chef. "Boil it, boil it."
This went on for a while as my children –who had helped stir the rice and add in the sugar- periodically checked in from the family room, anxious to taste the dessert.  When it was finally ready, rice softened, sauce creamy and aromatic, the boys and I sprinkled it with raisins for the final touch.  It was a magical moment in which the room was filled with abuela Sara's presence. The first spoonful of the still warm, gooey dessert instantly confirmed it. It wasn't as good as the one she made but it was a very close second.

Abuela's dessert had brought three generations in the kitchen to try to collectively make something wonderful. Sure, we argued our way through it but this was a conflict that had a sweet resolution and had us all smiling in the end. Abuela's arroz con dulce is a tradition that isn't going away.
Because I am not the legendary cook that my grandma was, I did keep notes. Here is the recipe.
Arroz con Dulce
Ingredients
-2 cups of rice (short grain works best)
-4 cups of coconut milk
-2 cups of evaporated milk
-piece of ginger root (4"-5" long)
-4 to 6 cinnamon sticks
-1 tsp of cloves (or to taste)
-1 1/2 cups of sugar
-1/2 cup of raisins (you can soak them in rum overnight)
-1 1/2 tsp. of salt
Instructions
-Soak rice in water for 2 hours
-In a saucepan, boil 2 cups of water with the ginger, cloves and cinnamon to make an infusion. Lower to medium high and continue to cook until the water has been reduced to about a cup. Drain and save the water.
-Drain rice and place in a large aluminum pot (like a Dutch oven or a Caribbean rice pot); add milks, infusion, sugar and salt and bring to a boil. Allow it to boil for five minutes, reduce heat to medium high and cook for another five.
-Bring it down to medium low and cook stirring occasionally until sauce has thickened and rice is cooked (about 25 mins.)

-If rice is still a little hard add another cup of water or coconut milk and cook it a few more minutes.
-Add raisins and mix them in thoroughly.
-Pour dessert in a deep dish or a couple of serving plates and allow to cool down. Refrigerate or enjoy at room temperature (my favorite.)

Are you sure you want to delete this comment?
Jeannie Rivera

Jeannie Rivera is an independent writer and former newspaper reporter who lives in Central Florida with her family, a guitar, a few orchids and a bunch of books. She doesn't have pets and this is unlikely to change. She's penned stories for The Miami Herald, The Orlando Sentinel, BBC Mundo, AOL and others. She was raised in Puerto Rico where she learned to sing, cook good food, be a good mom and throw boisterous parties (she gets great story material from these.) She enjoys traveling, good wine, great books, her two boys and sleeping.