Sonia Sotomayor dances with life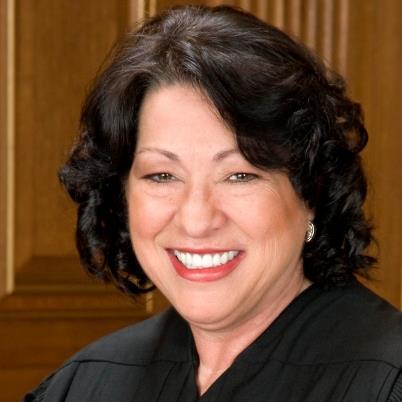 My girl Sonia has been doing some salsa dancing lately. For those that may not know who that is, I'm speaking of Supreme Court Justice Sonia Sotomayor who is in a book tour promoting her autobiography, My Beloved World. In an interview with Univision's Jorge Ramos that aired earlier this week, she showed him her salsa dancing skills.

The detail would be insignificant if it weren't for the fact that Sotomayor wasn't always a dancer. Contrary to popular belief, not all Latinos can dance to any rhythm with ease. I know it because I am one of those Latinos. My inability to follow the simplest of dance steps gives me anxiety attacks when I'm forced to fake it at a wedding or some other social engagement. But not Sonia, no ma'am. She took lessons, struggled, but in the end learned to dance salsa.
The dancing story is very telling of how Sotomayor has chosen to live. The daughter of Puerto Rican immigrants in New York, she pushed herself early on to overcome any challenge that blocked her path to a fulfilling life. She learned to give herself insulin shots at seven because the adults in her life couldn't manage the task, took it upon herself in her late teens to read the American classics to improve her English, and sought out a mentor as a young prosecutor for advice on how to connect with a jury. She'd never played baseball, so when asked to throw the first ball at a Yankee's game she practiced for days in a small open tract behind her office.
It is no surprise that Sotomayor has come such a long way, from the Bronx's projects to the nation's highest court. It is often said that to achieve success one must identify strengths and abilities and tap into them. But that is just part of the story. Greater success comes from harnessing fears, acquiring skills that don't come naturally and stepping out of comfort zones. History is full of examples of that. Sonia is the most recent one in the spotlight.

Now, if you excuse me, I'm off to salsa lessons.
Are you sure you want to delete this comment?
Jeannie Rivera

Jeannie Rivera is an independent writer and former newspaper reporter who lives in Central Florida with her family, a guitar, a few orchids and a bunch of books. She doesn't have pets and this is unlikely to change. She's penned stories for The Miami Herald, The Orlando Sentinel, BBC Mundo, AOL and others. She was raised in Puerto Rico where she learned to sing, cook good food, be a good mom and throw boisterous parties (she gets great story material from these.) She enjoys traveling, good wine, great books, her two boys and sleeping.