Flu shot, Hispanics have lowest vaccination rates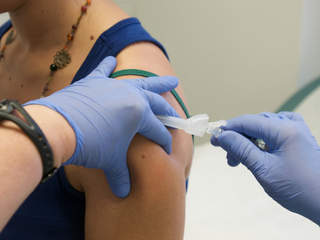 You know the feeling: every bone and muscle in your body hurts, your head feels the size of a watermelon and you can barely get any air through your congested nostrils. You've come down with the flu, that pesky virus that attacks your upper respiratory system with symptoms that spread to every cell of your body in no time.
Here is something else you probably also know: there is a way to prevent such misery. It's called the flu vaccine. But if you happen to be Hispanic, the chances that you get the flu shot are slimmer than for any other group. Get this, our vaccination numbers are on average 30 percent lower than those of non-Hispanic whites in the same age groups. Our elderly folks, one of the groups most vulnerable to flu complications, have the lowest vaccination rates. Only 40 percent of them are regularly immunized against the flu.

The Center for Disease Control attributes these dismal numbers to lack of access to health care. Hispanics are among the nation's lowest income groups and, no need to get in the weeds here, but we all know there is direct correlation between income and care.
With no more scientific evidence than compelling Facebook postings and overheard conversations, I will dare add another reason to our low vaccination rates. Ignorance. Plain and simple. If I had a dollar for every comment seen or heard recently about the vaccine being poisonous, that it can make you sick or that it is ineffective, I could go out to dinner with my family this weekend on ignorance's penny.
No, the flu vaccine won't give you the flu. But because the flu is administered during flu season, sometimes people are already infected with the virus when they get it. And the shot isn't a silver bullet either, it does not work 100 percent of the times. But if you get it, you're 62 percent less likely not to get the flu. That's a darn good improvement in my book.
About vaccines being poisonous, pl-l-ease. Who in this country ever battles polio anymore?
If you still need encouragement, how about this: The number of flu-related deaths in the nation reaches several thousands every year. A simple shot can turn this around.
Jeannie Rivera

Jeannie Rivera is an independent writer and former newspaper reporter who lives in Central Florida with her family, a guitar, a few orchids and a bunch of books. She doesn't have pets and this is unlikely to change. She's penned stories for The Miami Herald, The Orlando Sentinel, BBC Mundo, AOL and others. She was raised in Puerto Rico where she learned to sing, cook good food, be a good mom and throw boisterous parties (she gets great story material from these.) She enjoys traveling, good wine, great books, her two boys and sleeping.