Hi, papi! So glad you aren't really my dad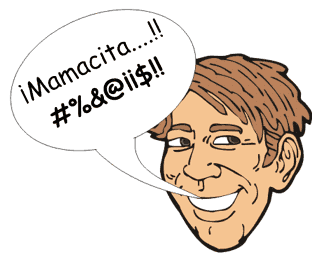 I never really thought much about the multi uses we give to the words "mami" and "papi" until one of my boys brought it to my attention.
"Mom, why do you always call me papi?," Peter said.

At first I didn't get the question, but he then reminded me that, at seven, he isn't a daddy yet.
But my friend Mercy's daughter, Elise, 4, takes the cake. She was gardening with her mom in the front yard when a group of teenagers walked by.
"Vaya mama…. Psssst…. Psssst… Hey, mami…," they said commanding my friend's attention.
"Did you hear that mami?," Elise said. "Those boys are confused. They think you are their mother."
Funny as it is, we do use the words mami and papi, in all of their variations, quite freely. It doesn't make any sense. They are terms of endearment for loved ones, store clerks, service people, neighbors and pets. We use it with perfect strangers we find attractive ("ay, papi, you look so good…") Heck, We even use it with people we dislike or with whom we aren't happy. ("Espérate un momento mamita, don't you dare talk to me that way again!")

Imagine the horror on anyone's face if we were to say any of those things in English:  "Oh, daddy, you're so hot…"  Say what!?!  I'll save you from the disgust of any other translation.
So, my friends, how do you suppose this happened? How did the Spanish word for mother and father became a multipurpose term of endearment, a condescending expression and a term to express desire, all in one?

 Chime in.

I remembered being confused about this as a kid, hearing my grandparents talk back and forth. "She's not his MOM," I remember thinking about my grandfather, when he addressed abuela. My grandfather always called my abuela "mami". When he was complaining, it sounded more like a kid whining "Maw-awm!", when he was flirting it sounded more like "hola, hottie!". With little kids, saying "Hey papi", it's like saying "Hey big man" in english. Even though the child is obviously not grown, it's kind of silly and sweet. Lots of english speakers say "Hey big man" to little boys. I think when we consider the duality of these terms, "mami" and "papi", of the parenthood role, where you are a lover, a parent, a domestic, and yet an authority (at least to your kids), it sort of makes sense. Maybe I'm thinking it out too much! Very interesting article, as a latina I really enjoy this section and read it all the time. Thanks! : )
Are you sure you want to delete this comment?
Jeannie Rivera

Jeannie Rivera is an independent writer and former newspaper reporter who lives in Central Florida with her family, a guitar, a few orchids and a bunch of books. She doesn't have pets and this is unlikely to change. She's penned stories for The Miami Herald, The Orlando Sentinel, BBC Mundo, AOL and others. She was raised in Puerto Rico where she learned to sing, cook good food, be a good mom and throw boisterous parties (she gets great story material from these.) She enjoys traveling, good wine, great books, her two boys and sleeping.