Julián Castro no habla español, so what?
Speaking Spanish isn't a requirement to be Latino, but it definitively helps those seeking to represent us in government.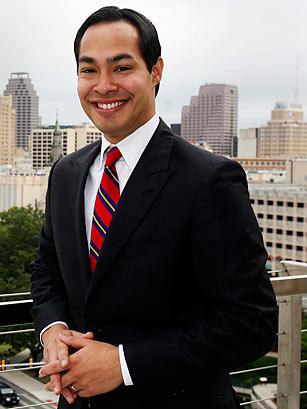 Every now and then the topic of whether the ability to speak Spanish is a requirement for a person of Hispanic heritage to be a worthy representative of his or her Latino peers alborota el gallinero . Ruffles feathers, that is.
Most recently, it was San Antonio mayor Julián Castro who endured criticism for not being fluent in his grandmother's native tongue.  The British paper The Guardian even cautioned against defining Castro as "a Latino politician" because he doesn't even "speak fluent Spanish."
The notion that a Latino can't be a Latino if he or she doesn't speak Spanish is right down silly. According the most recent U.S. Census figures, 76 percent of those who identify themselves as Hispanics speak Spanish at home. The other 24 percent, like Castro, doesn't. But like him, they define themselves as Latinos because they have an irreplaceable connection to the culture, heritage and values of their ancestors.  At the end of the day, those are the things that shape us and make us who we are, thus they are undeniably Latinos.
Having said all that, a Latino politician that doesn't speak Spanish is inherently handicapped. (To Castro's credit, he is learning Spanish.) Languages are about much more than naming objects or describing actions. They are windows into the soul of a culture and provide an instant bond with the people that speak it.
I don't see how a Marco Rubio would've enamored his Florida constituency if he weren't fluent in Spanish. The same goes for Bob Menéndez in New Jersey, a Henry Cisneros in Texas and a long list of others. Language wasn't necessarily the determining factor in every case –these are also bright, energetic leaders with crossover appeal- but I dare say it helped put them over the top. Being able to navigate the same cultural and linguistic duality most Latinos live in, certainly counted on their favor. That was the glue that made their message stick, whether they were talking to farm workers, students or businessmen. A language that linked them to the same culture was what they all had in common.
This is a fact that many non Latino politicians have recognized and valued when reaching out to the masses. It is often said that Jeb Bush was the first Hispanic governor of Florida. Although before him there had been at least one governor of Spanish heritage, none spoke the language. Jeb is fluent in the language and navigates the culture with complete ease. He reaped the benefits of that. A majority of the state's Hispanics voted for him. Twice.
Again, it would be way simplistic to assume that Jeb was elected governor just because he speaks Spanish. Likewise, language alone doesn't determine anyone's ethnicity or cultural identity. But its is, nevertheless, an invaluable skill to bond and connect with our own.
Are you sure you want to delete this comment?
Jeannie Rivera

Jeannie Rivera is an independent writer and former newspaper reporter who lives in Central Florida with her family, a guitar, a few orchids and a bunch of books. She doesn't have pets and this is unlikely to change. She's penned stories for The Miami Herald, The Orlando Sentinel, BBC Mundo, AOL and others. She was raised in Puerto Rico where she learned to sing, cook good food, be a good mom and throw boisterous parties (she gets great story material from these.) She enjoys traveling, good wine, great books, her two boys and sleeping.