Puerto Rico Supreme Court passes judgement on women rasing children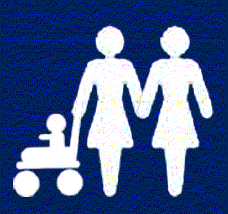 Puerto Rico Supreme Court voted 5-4 this week to ban a gay woman from adopting a 12-year-old girl that is her partner's biological daughter. The girl was conceived in vitro and the couple has raised her together since birth.
The Court's decision officially bans gay adoptions in the island. In its ruling the majority of the Puerto Rican court asserted that a child's dignity, stability and well-being can only be ensured if raised in a "traditional" family. The two-mother model didn't fit the Court's definition of traditional, so it chose not to recognize as a legit parental structure the only one this child has known.
Judicially speaking, a good friend reminded me, the decision is sound. Puerto Rican law doesn't prohibit discrimination based on sexual orientation and makes no provisions for same-sex couples. Domestic violence laws do not cover homosexual relationships (or unmarried, heterosexual couples.) Thus, it would be up to the Puerto Rican Legislature to change these. Two bills making their way through the Legislature right now seek to correct some of these issues.
Nevertheless, it is the Court's assertion that two women can't raise a child properly that really ticks me off. Really? Go tell that to the thousands of Puerto Rican children being raised by mom and abuela, or by an aunt and a cousin, just to mention a couple of examples.
Women all over, not just in Puerto Rico, have been stepping up to the plate for generations to successfully rear children in family units that don't look anything like the Cleavers. Incidentally, our president was raised by his mom and his grandma. Puerto Rico is no different. Divorce, kids born out of wedlock, and a high crime rate that has left thousands of children orphan or with incarcerated parents, have made up for plenty of "non traditional" family units. Some are doing a good job, others aren't. But that's not different from what happens with "traditional" families. In fact, for some people it takes two or three tries at the "traditional" family thing until they find themselves in one that actually works. Every divorcee can attest to that.
Tradition -the handing down of statements, beliefs, legends, customs, information, etc., from generation to generation- isn't always right and it has to evolve, expand, and grow with a society to remain relevant. Traditionally, women didn't work outside of the home. Traditionally, women didn't vote. Traditionally, women didn't make financial decisions.
The Court's ruling, the AP reports, prevents the 12-year-old girl from qualifying to be in  the woman's medical insurance. It also prevents the woman from gaining custody of the girl if her birth mother ever died or was unfit or unable to make decisions. Additionally, because the girl has no legal ties to the woman (one of her mothers, for all practical purposes), she is deprived from financial benefits that translate from a parent to a child. No tradition can make any of that fair.
Are you sure you want to delete this comment?
Jeannie Rivera

Jeannie Rivera is an independent writer and former newspaper reporter who lives in Central Florida with her family, a guitar, a few orchids and a bunch of books. She doesn't have pets and this is unlikely to change. She's penned stories for The Miami Herald, The Orlando Sentinel, BBC Mundo, AOL and others. She was raised in Puerto Rico where she learned to sing, cook good food, be a good mom and throw boisterous parties (she gets great story material from these.) She enjoys traveling, good wine, great books, her two boys and sleeping.