Nothing says "feliz navidad" like Coquito
Creamy, silky, sweet, aromatic and spiked with rum, coquito says feliz navidad with every sip.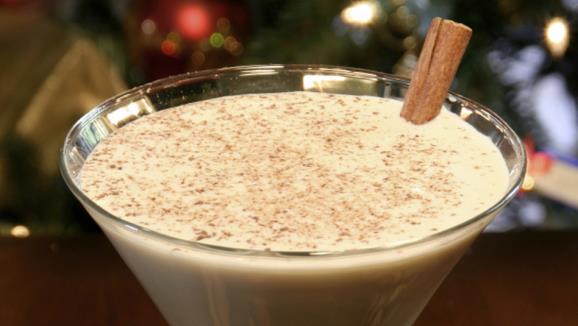 If you've never had coquito, I need to help you fix that. Coquito is the quintessential Puerto Rican holiday drink. Some people like to say that it is like eggnog (a second cousin), but I prefer to say that it has a personality of its own. Creamy, silky, sweet, aromatic and spiked with rum, coquito says feliz navidad with every sip.
I researched the history of coquito and most food historians agree that it is the Puerto Rican version of the eggnog, which is of English origin. Eggnog was a drink only the wealthy could afford in the early days because, with no access to refrigeration, milk and eggs were a luxury to most commoners. But that changed in America where milk and eggs were plentiful on farms. The brandy or Madeira wine of the original recipe was switched to whiskey or rum, which was cheaper than European spirits.
By the time eggnog made it to Puerto Rico (sometime in the 19th century), coconut and spices were added because, well, that's what we like to do. Coconut and spices are our friends and abound in our kitchens. With the advent of more modern times, the fresh coconut milk was swapped by coconut cream for convenience and - as if lack of sugar were an issue - we added sweetened condensed milk to the recipe and cut back on the eggs. In fact, some recipes do away with them altogether.
And that brings me to a very important point. There are not two coquito recipes that are alike. Any coquito master will tell you that the secret is knowing how to create layers of silkiness, sweetness, spices, and rum that are well balanced and in perfect harmony with each other. How you get there, however, is usually a family secret or the product of years of experimenting.
I firmly believe that trying coquito should be on your bucket list. So crank up the Christmas music and head to the kitchen now. Here's one way to make it:

Coquito
Ingredients
-2 cans (15 oz) cream of coconut
-1 can of sweetened condensed milk
-1 can of evaporated milk
-1 to 1 ½ cups of good quality white rum
-1 teaspoon cinnamon
- ¼ teaspoon cloves
- ½ teaspoon nutmeg
- 1 teaspoon vanilla extract
 Mix all ingredients in a blender and refrigerate overnight to allow spices to meld. Shake well before serving. Pour in a martini or wine glass, sprinkle some more cinnamon on top. Salud!
Jeannie Rivera

Jeannie Rivera is an independent writer and former newspaper reporter who lives in Central Florida with her family, a guitar, a few orchids and a bunch of books. She doesn't have pets and this is unlikely to change. She's penned stories for The Miami Herald, The Orlando Sentinel, BBC Mundo, AOL and others. She was raised in Puerto Rico where she learned to sing, cook good food, be a good mom and throw boisterous parties (she gets great story material from these.) She enjoys traveling, good wine, great books, her two boys and sleeping.