Mitt Romney's papayagate, really?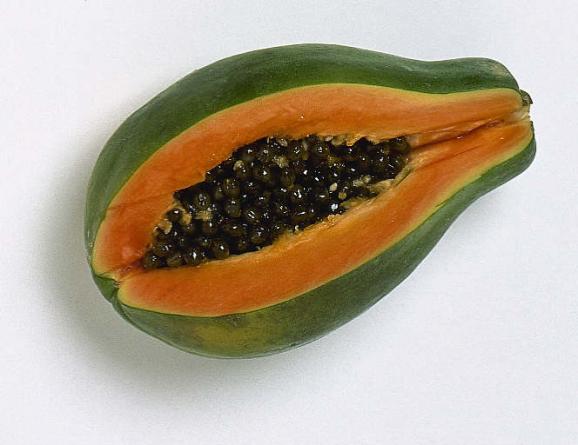 It doesn't fail.  In the heat of political campaigns, politicians crank up the pandering and sooner or later make fools of themselves.  But I'm not complaining. It often provides comic relief at a time when the over-the-top rhetoric on both sides is beginning to cause acute voter fatigue.
One recent such incident comes to us courtesy of soon-to-be Republican presidential nominee Mitt Romney. Last week, he  told Miami's Radio Mambí –a Spanish station that caters to Cuban Americans- that he is "a big fan of mango, papaya and guava."  Romney was completely unaware of the fact that papaya is Cuban slang for vagina. The show's host chuckled. The Spanish translator seemed embarrassed and left the word "papaya" out of her translation. 

The South Florida press had a feast. Some media outlets referred to the incident as Romney's Papaya Monologue and the off-color jokes in social media would've made the candidate's Mormon friends blush.
Hyperbolic? Blown out of proportion? Yes and yes. But when politicians, in their zeal for votes, pander to a group of people they never before cared to get to know, situations like this just happen. I think that, in the mind of the candidates, it goes something like this: "Cubans like their fruit shakes (batidos) so I have to go there to show I know what makes them tick." Really? How ridiculous is that. Most Cubans I know (as well as the rest of my Latino friends) care more about jobs and the economy.
This incident reminded me of my days covering the political beat in Miami. One time I went to cover an aspiring presidential candidate's press conference at, where else, a Cuban restaurant. The guy showed up wearing a quintessential Cuban guayabera that he had obviously just purchased in a store down the street. It had folding marks from the plastic baggie it had inhabited just minutes earlier and even the tag. (I'm wondering now if he planned to return it.) He must've felt like the guayabera made him Latino, in the same way that capes make ordinary men superheroes in Marvel comics. He said a few words in heavily accented, nonsensical Spanish and added that Fidel Castro was a terrible person. Wow. Revolutionary. Predictable too.  

Should we be offended by the silliness of it all? Maybe. But I stopped wasting my time and energy with that long time ago. These are reminders that it is up to us to stay informed and to know the facts. We need to pay attention to our world on a regular basis to develop solid convictions and vote based on that. 
The sooner we accept that campaigns and candidates aren't going to enlighten us, the better off we will be.
Having worked extensively with Americans of Cuban extraction in U.C.,N.J. I can see the humor of this miss.  The problem is that even those who are fluent in the Spanish taught in Schools and University are not going to be familiar with the colloquial, street lingo of the various countries. 

That is funny but not wrong. First: in Cuban slang no is used papaya like vagina, it is used like vulva; them are close but no the same. The mostly time the Cubans call Fruta Bomba to papaya, but some time and a lot of Cubans call papaya to fruit and never have confusion or misinterpretation when are referring to one or another. Papaya is not a "bad word" for Cubans, No Romney, the reporter are wrong.
Once more the stupidity of the media comes to light I am a Cuban American with four daugthers that have been calling the fruit by its proper name PAPAYA for decades once more you can see that the media can not stick with the real issues that phase the country the economy, jobs and an impostor in the White House
Are you sure you want to delete this comment?
Jeannie Rivera

Jeannie Rivera is an independent writer and former newspaper reporter who lives in Central Florida with her family, a guitar, a few orchids and a bunch of books. She doesn't have pets and this is unlikely to change. She's penned stories for The Miami Herald, The Orlando Sentinel, BBC Mundo, AOL and others. She was raised in Puerto Rico where she learned to sing, cook good food, be a good mom and throw boisterous parties (she gets great story material from these.) She enjoys traveling, good wine, great books, her two boys and sleeping.