A Tale of Two Coasts
How attempting to appeal to all Latinos alike may me prove to be a costly mistake to those blind enough to try it.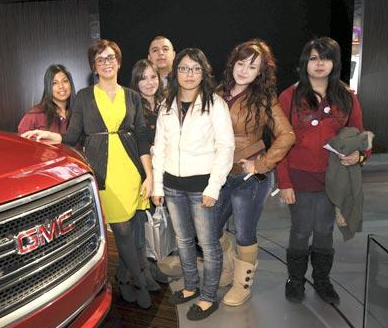 I just finished my annual pilgrimage to the North American International Auto Show in Detroit - one of my favorite times of the year. This year my host was a very revitalized General Motors through their cleverly put together diversity outreach program. In order to find a way into the hearts and mind of a more diverse audience, GM bundles African American, Latino, Women, and GLBT car journalists into a quite fun and colorful group. This gave the lucky few chosen to attend a wide range of viewpoints and access to information and company officials that otherwise would have been tough to find.
By choosing a Latina from Texas and a Latino from Miami to be part of this group, GM shows that they understand the diversity inside the Latino community. It's tempting to try crack into our hearts and minds with a singular "Latino formula" (many have tried unsuccessfully), but a look at the differences between Latinos of Mexican descent on the West Coast and Latinos from the Caribbean on the East Coast (just to name the two largest groups) and you can see why this is an arduous task.
GM, which has been so harshly criticized by conservatives for the bailout received from the federal government, at least understands this fact. And yet this insight seems to have eluded its critics. The debacle of the Republican Party with the Latino community is due in a very large part because they do not understand the diversity within our group. Conservatives have tried to lure us with single issues like abortion, for example. Because you know, those Latinos are so religious. Hopelessly trying to turn us into a single-issue group is a spectacularly failed exercise of wishful thinking. It's not surprising that they missed not only their electoral goals, but also insulted our intelligence and further alienated us from them in the process.
Latinos are as diverse as any other group. Maybe even more so because we are open minded and we like to experiment and evolve which differentiates us from more rigid ethnic groups. Language certainly does not homogenize us. On the contrary, the wide range of ways to speak it makes us even more diverse. Those who would wish for a simpler way to approach Latinos are destined to fail.
Watch us, like us, and follow us, we are a lot of fun and we are growing.
Follow Latinzine and Legal Alien on Facebook.

Are you sure you want to delete this comment?
Simón Gómez

Political junkie, loud mouth extraordinaire, and a born gear head, Simón found himself in Miami after 11 years of practicing law in Caracas and being a good ole boy. While always attuned to American culture, his heart is firmly rooted in the Latino community. Simón wrote for three years the car pages of Maxim en Español and has been freelancing for MSN Latino since 2011. Simón divides his time between his two dogs, his production work, and his writing.