Marco Rubio and Ted Cruz Don't Like Women
. . . or at least not enough to support the Violence Against Women Act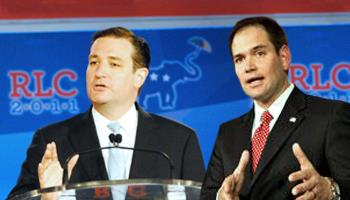 This is the kind of issue that used to get resolved almost automatically before the perennial gridlock institutionalized by the republicans in the senate took hold. No one in their right (or left) mind would oppose the reauthorization of a universally appealing bill like Violence Against Women Act.
But it seems eight GOP senators decided that preventing violence against women and punishing those who commit it wasn't worth an approving vote. Among them the junior senator from Florida, Marco Rubio, and the Texas freshman, Ted Cruz.
What is the excuse the gentlemen from Texas and Florida are offering for their seemingly inexcusable opposition to VAWA? A newly added provision that would extend the protection of the law to Native-American women and LGTB victims of domestic violence as well as to undocumented immigrants. Surprised? Anyone?
In all honesty opposing VAWA is such an extreme and outrageous position that the bill has very little chances of being effectively blocked by a filibuster. Every single woman in the senate -with the exception of Deb Fischer (R-NE)- is cosponsoring the proposed legislation and everyone agrees that the bill is sure to obtain the 60 votes necessary to override the republican filibuster and get passed and into the House for consideration..
However for two Latino senators, one of them even allegedly looking to obtain his party's presidential nomination, to have opposed even considering the bill on the senate floor is shameful not only for them, but also for the communities they represent and for US Latinos at large. We live in a country where one-in-four women will suffer violent abuse in their lives, where a case of violence against women is reported every minute and is estimated that a woman is victim of abuse every nine seconds. Latinas face some added challenges in language, migratory status and ignorance of the law in general, but these challenges could be eased through education and prevention programs within the bill. These Latino women deserve more from their elected representatives than a refusal to even consider such help.
One provision from the bill that was eliminated to appease Republicans and obtain a broader bi-partisan support was one that provided for an increase of the allocation of visas for undocumented victims of domestic violence. But even this deletion wasn't enough for Cruz and Rubio.
The bill faces a much steeper challenge in the House of Representatives since it has to overcome a much larger doses of the same absurdity, extremism, and outrageousness of those who opposed it in the Senate. Such is the way of this current House. Some House Latinos are expected to oppose the passage of VAWA and we will let you know who they are as soon as they come out of their closets.
In the meantime Rubio was chosen to deliver the GOP response to the President's State of the Union address, the first time ever the response is going to be delivered in Spanish and well as in English. If you listen, regardless of the language, keep in mind that this is one of the eight senators, out of a hundred to vote against even discussing the bill to reauthorize VAWA.
Follow Latinzine and Legal Alien on Facebook.

Are you sure you want to delete this comment?
Simón Gómez

Political junkie, loud mouth extraordinaire, and a born gear head, Simón found himself in Miami after 11 years of practicing law in Caracas and being a good ole boy. While always attuned to American culture, his heart is firmly rooted in the Latino community. Simón wrote for three years the car pages of Maxim en Español and has been freelancing for MSN Latino since 2011. Simón divides his time between his two dogs, his production work, and his writing.