K-9 Christmas
A few ideas on how to pay your dog back for all the good things he does for your on daily basis.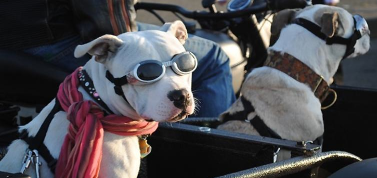 Many of us, I would venture to say most of us, regard our dogs as part of our families. This interspecies bond is pretty unique for humans and dogs. Aside from the obvious signs of companionship, love, and community there are even biological signs that unveil the depth of this relationship, unparalleled in the animal kingdom. Crazy barking of happiness when we cross the threshold of our homes, big loving eyes, or that cold wet nose pushing us to get up in the morning are just a small part of what our canine pals bring us. Their loving presence has also been proven to boost our mental and physical health.

Oh, yes! Research from the University of Missouri-Columbia suggests that dog owners release feel-good hormones by the simple act of stroking Fido's fat head. Serotonin, prolactin, and oxytocin are among the hormones that help us cope with such maladies as depression and stress. Who knew, right? Add to that the known fact that dogs can help our kids fight allergies and the endless supply of unconditional love that these furry beasts bring to our hearts day after day (demanding very little in return) and you have to wonder how the heck can anyone live without a dog or two at home. I know I couldn't and I wouldn't want to.

So with the holidays around the corner, how do you plan to reward you bag of fleas for another year of faithful companionship? Let me share a few ideas beyond the stuffed animal or the stocking full of doggy treats. By themselves these gifts aren't a bad idea, but quite frankly as bright as your canine companion may be, he won't see the difference with the occasional cookie or the disgusting kitty-crunchy he may enjoy in the backyard every now and then.

Education: Look up what dog training resources are in your area. See what would be the best for your dog's characteristics. An unruly pooch may greatly benefit from obedience training and who knows? He may even earn one of those coveted Good Canine Citizen certificates and you can brag can about it with a bumper sticker or two. One of those tireless dogs will appreciate an obstacle training course, he may even qualify to compete in state and national events and best of all experiment true happiness. As you probably know by now, a tired dog is a happy dog.
A year pass to your local doggy beach: If you live in a coastal region there are surely a doggie beach or two and if you know that your dog would enjoy all the trickery that a day at the beach can bring, make the commitment to bring your canine baby to the beach on regular basis. Many parks and recreation areas require passes, if that is the case in your region make sure your pet complies with all the health requirements needed to obtain a pass and buy yourself a beach umbrella and a couple of very resistant beach balls. That is about all you are going to need.
His own dog: What is better than  one dog? Two dogs, of course. If your dog is dog-friendly, he will love the company. Elements of stress such as separation anxiety will be greatly mitigated with a companion brother or sister. Chances are that your dog will stop destroying your shoes or furniture, although you may have two canine shredding machines to worry about. What fun! Isn't it? Please consider adopting from your local shelter or from a rescue organization.
A week or two in a summer camp for you and your dog: These are great fun and sure to create everlasting memories. Give yourself the opportunity to be a camper again and expose your dog to the pleasures of open spaces.
Pet health insurance: I can't stress enough the importance of having health coverage for your pet. Comprehensive coverage will not only ease the financial pain of having to pay out of pocket for the treatment of a catastrophic disease but it may make it affordable to the point of giving your dog a chance he may otherwise not have. Please spay and neuter.
Believe me, your dog won't know the holiday season from the hurricane season, but these are gifts that will do wonders for the mental and physical health of your canine friend. It will almost equal the wonders they bring to you on a daily basis. They deserve it, and you probably do too.

Follow Latinzine and Legal Alien on Facebbok.

Photo courtesy of BadRap.org
Simón Gómez

Political junkie, loud mouth extraordinaire, and a born gear head, Simón found himself in Miami after 11 years of practicing law in Caracas and being a good ole boy. While always attuned to American culture, his heart is firmly rooted in the Latino community. Simón wrote for three years the car pages of Maxim en Español and has been freelancing for MSN Latino since 2011. Simón divides his time between his two dogs, his production work, and his writing.