Citizen Pain
How long held prejudices and stereotypes have saddled the Latino experience in Hollywood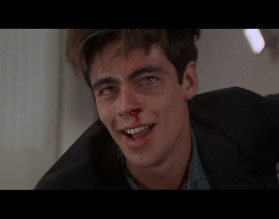 Is it me, or is the tide of marginalized Latino characters in Hollywood finally turning?
For years, and save a few exceptions, Latino characters have traditionally veered to the wild side. Prostitutes, pimps, drug addicts, thugs, and gang members (which in Hollywood is not the same as the dignified 'gangster', a role usually held for Italian, Jewish, and Irish characters) have traditionally been reserved for Latino players.
I am not even talking about the big bill gangster or the starring prostitute. After all, when Orson Wells and Brian de Palma needed to cast the ultimate Latino criminal for their celebrated 'Touch of Evil' and 'Scarface,' they resorted to Anglo stars. Plastering the faces of Charlton Heston and Al Pacino with dark shade make up and asking them to fake Latino accents may have done the trick for the untrained eye and ear, but for real Latinos the screeches of a poorly tuned violin would be a fitting analogy for how bad Mexican Heston and Cuban Pacino sound. And don't get me started on Pacino's disturbing annatto orange face which seemed ready to bleed all over his iconic white sport jacket and Michelle Pfeiffer's cheeks. 'Carrotface' would have been a more suiting title for him.
But the problem is that the incidental pickpocket, car robber, and petty thug are more often than not portrayed as Latinos. We essentially replaced African Americans in this noble cause, since the moment it got politically incorrect to overuse them in small criminal roles. Owning the lion share of the immigrant population in the United States and therefore a big chunk of the poorest population, Latinos were certainly an easy pick.
Times have changed, and even though there hasn't been a significant seism in the menus of cinematographic stereotypes, we have finally found company in the form of newly arrived eastern European surrogates, the new immigrants, new poor.
Also the rise of an abundant crop of very talented Latino actors and actresses during the last decade, has helped elevating the profile of our community in the eyes of the public, thus turning the cinematic street criminal into a more of an equal opportunity cliché. Which ultimately does only reaffirm that everything always goes in circles, or is it that no one remembers how a young Benicio del Toro, now a bona fide superstar, played Dario a psychopathic henchman to a murderous drug dealer in License to Kill (1989), a very forgettable James Bond flick?
Simón Gómez

Political junkie, loud mouth extraordinaire, and a born gear head, Simón found himself in Miami after 11 years of practicing law in Caracas and being a good ole boy. While always attuned to American culture, his heart is firmly rooted in the Latino community. Simón wrote for three years the car pages of Maxim en Español and has been freelancing for MSN Latino since 2011. Simón divides his time between his two dogs, his production work, and his writing.