Sorority Señoritas
Another dispatch from the "Much a Do About Nothing" zone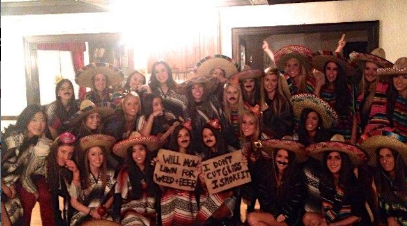 The internet is once again ablaze in outrage as it usually does with this type of story. The story igniting the wildfire was a simple Penn State sorority party picture (that sounds like a movie title from the '50s) posted on to their very public Facebook page. The photo was deemed offensive by pretty much anyone saw it, members of the Nu Gamma chapter of Chi Omega were disciplined (some say girls were suspended), and the sorority officially apologized to anyone they may have offended. As if Penn State needed any more scandals, Mexicans more offensive stereotyping, and or the country more racism.
And to be clear there are things in this photo to feel offended about, especially if one is Latino. But, let me share with you an alternative way to see all  this, if only to make it a little bit more . . . palatable.
The picture shows us that this was a Mexican themed party. I bet there were tasty nachos, tacos, tortillas, guacamole, frijoles, agüitas and cases of Patron and José Cuervo. Why else would you throw a Mexican themed party? And furthermore, what more transculturization can anyone possibly hope for? No wait, I'm being serious. In true and sincere homage, the ladies in attendance were wearing sombreros, ponchos, and giant bike-handle mustaches perpetuating stereotypes not much different from those established by such illustrious cultural icons like Speedy Gonzales. Corporations, TV shows, and movies still drag out these tired, old stereotypes so is it any wonder these college students would to? And in the end, is there anything really wrong in that? Grow some thicker skin people!

Sorority girls themselves have seen more than their fair share of slander and stereotyping, from the same places. The unrivaled and invincible cultural colossus that is Hollywood has churned out such offensive titles as: The House Bunny, Clueless, Hairspray and Sorority Babes in the Slimeball Bowl-O-Rama just to name a few. How much of this stuff can someone take before feeling an uncontrollable need to take revenge on some minority, right? I mean, aren't Mexicans are as good a target as anyone else? 
And where do you leave the media? Such outlets like, let's say, Fox News (you know, just to name a random one) throws one of those aged sorority ladies onto the screen whenever they want to same something outrageously dumb like: War on Christmas! Mexican Invasion! Gay Agenda! Reparations! Birth Certificate! Recount! I mean, when you have a yearly war on Christmas to fight against, who cares about the thin skin of a Mexican or two?
Oh, yes! The ladies from the Nu Gamma Chapter of Chi Omega were holding signs making fun of undocumented laborers. I DON'T CUT GRASS I SMOKE IT, read one of them. Well, that did cross a line. As if they couldn't do both. That sign was very dismissing and not very respectful. But on the other hand, do you think that smoking weed is such a terrible thing nowadays? Unless you still live way back in the last century or got scared for life by "Reefer Madness," you probably know that smoking marihuana does not carry the social stigma it had in the yesteryears. If you don't believe me, ask the voters in states like Colorado or Washington. Seriously, look at the girls in the picture, they may have meant a compliment. Maybe?
I hope to have helped.
Follow Latinzine and Legal Alien on Facebbok.

Are you sure you want to delete this comment?
Simón Gómez

Political junkie, loud mouth extraordinaire, and a born gear head, Simón found himself in Miami after 11 years of practicing law in Caracas and being a good ole boy. While always attuned to American culture, his heart is firmly rooted in the Latino community. Simón wrote for three years the car pages of Maxim en Español and has been freelancing for MSN Latino since 2011. Simón divides his time between his two dogs, his production work, and his writing.