Immigration Reform . . . Now!!
Let the battles begin. Meet the players.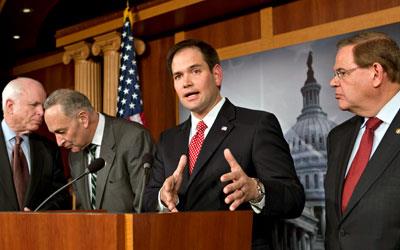 "
Our journey is not complete until we find a better way to welcome the striving, hopeful immigrants who still see America as a land of opportunity. Until bright young students and engineers are enlisted in our workforce rather than expelled from our country
."
Barack Obama. Inaugural address 1/21/2013
If one thing was made clear after President Obama's decisive victory this fall, it's that he needs to follow through with his strong commitment to comprehensive immigration reform. That was the bargain, that's why he got our support. His inaugural address shows he plans to do just that. This pact and the strength of our conviction as voters has also given moderate Republicans the guts to finally move their party forward.
Not wanting to see their party demonized and loathed by Latino immigrants, three moderate Republican senators joined four Democrats to release a new immigration reform plan. This rare display of bipartisanship includes a path of citizenship for the majority of the 11 million undocumented immigrants now in the U.S. Now known as the 'Gang of Eight', these senators have put out a plan that seems pretty reasonable. Oh, but perhaps you're wondering how three plus four equals seven?  It doesn't. There is one more senator involved and that would be Marco Rubio (R-FL), of course.
Rubio initially rejected the idea of the group itself as well as their methodology, insisting that comprehensive immigration reform shouldn't be solved with one big law but with many little ones. Because you know, the more chances for a stalemate and gridlock, the better.
Finally, in view of the imminence of a solution and the momentum that the idea of reform was getting, an acute sense of opportunism took the better of Mr. Rubio. He  gave up and finally joined senators Jeff Flake (R-AZ), John McCain (R-AZ) and Dick Durbin (D – IL), Robert Menendez (D-NJ), Charles Schummer (D-NY) and Michael Bennet (D-CO) in the "Gang of Eight."
I mentioned that the plan seems reasonable, but there is of course a catch to this path to citizenship. Before illegal immigrants can obtain citizenship, the border must be deemed "secure." In the meantime, these immigrants would be granted a "probationary legal status" which very likely would stick them in an endless legal limbo. To the surprise of no one, this was a republican requirement. I feel very tempted at this point to echo Senator McCain and ask the federal government to "build the dang fence." But what would that really achieve when immigration from Mexico is in negative numbers? Or could they be talking about the Canadian border? I didn't think so either. It seems to me that the "Gang of Eight" is confusing crime and drug trafficking with immigration … Hmmmm.
President Obama has his own plan ready as well , which was announced in Las Vegas just today. It is very close to the "Gang of Eight" proposal, but without the probationary status. The president's plan also includes a path to citizenship for foreign spouses in same sex couples married to American citizens. This part of his plan is already facing heavy artillery from the GOP who have called on their Christian evangelical supporters to get in on the fight.
So far, the president has delivered swiftly and true to his campaign promises. The fight looks to be long and bitter. While the three-and-a-half Republican senators in the Gang of Eight have worked hard to put forward a surprisingly reasonable and bipartisan effort, their fellow party members in states like Virginia and Pennsylvania are putting forth very aggressive efforts to diminish the political power of the minority voters. A Republican-backed bill in Arizona would require the uninsured to show proof of citizenship before receiving medical  care, turning hospitals into immigration check points.
If this continues, they will need more than an effort at immigration reform to warm our Latino hearts.
Follow Latinzine and Legal Alien on Facebook.


Im all for "earning" your status here in America. The path to citizenship should be a firm but fair deal that would enable  the already hard working illegal immigrants who play by the rules to obtain some sort of legal status here. Whether it be by work permits, visa. It can also be a boost to our economy, we all know illegal immigrants work here, many of whom have an ITIN number and do file taxes while others don't for fear of being deported. Lastly, lets not confuse terrorism or drug trafficking with illegal immigrants.  Only those living in the US for a certain amount of years and can prove they have not been a burden to the US should qualify. 

i am almost given up. It is so ridiculous!!!  All this "nonsense"!!! that makes my American Citizen husband"  so embarrassed and ashamed for everything that i am going through...
 I did spent more than a year out of the USA due to a open heart surgery that my mother went through and I wanted to be there to help and support her. I was NOT WORRY  I already had a Green Card valid till 2016, my  Social Security, Driving License and a happy marriage over 15 years!!!
On my way back home, I was taken to an ordeal at Atlanta Airport!  Officers that treated me as if I was a TERRORIST or a murder. By the way, I AM NOT AN ALIEN!!!
 I am a teacher, a mother, a wife and a good person.
What the hell happened to this country!!!!!!
I already spent lots of money with lawyers that could not get anywhere.
My daughter came here when she was 13 yrs. and today she is Biologist and an American Citizen.
I JUST WANT MY GREEN CARD BACK!!!!!! What else??? Get a divorce??
This is UNBELIEVABLE!!!!!

First of all I am NOT an "Alien"...what happen to the word immigrants?
I am a 63 years old teacher married to an American for more than 16 yrs.
Me and my  "American husband", went to Brazil to help my mom, to assist
her after an open heart surgery. I had my Social Security, and my Green
Card was valid till 2016!!. I spent more than a year out of the USA...so[!!].
My husband came earlier to find us a place to live, and me and our dog
came a littler later.  ON my way back I was stopped at Atlanta Airport and
was treated like as if I was a TERRORIST or something worse than that!!
unacceptable, rude, aggressive and totally unnecessary!
I had NO RED flag whatsoever!!!!!
BELIEVE IT OR NOT I STILL FIGHTING TO GET MY GREEN CARD BACK!!
what happen to America????? Hen Mr. President can you help me??!!or I'll have
to abandon my husband??!! 
Are you sure you want to delete this comment?
Simón Gómez

Political junkie, loud mouth extraordinaire, and a born gear head, Simón found himself in Miami after 11 years of practicing law in Caracas and being a good ole boy. While always attuned to American culture, his heart is firmly rooted in the Latino community. Simón wrote for three years the car pages of Maxim en Español and has been freelancing for MSN Latino since 2011. Simón divides his time between his two dogs, his production work, and his writing.