Root Canal
Are U.S. born Latinos striving away from their Latino roots, or just reimagining them?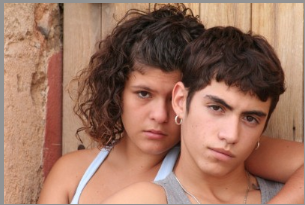 The non-US born Latinos, such as myself, have a very unique perspective onthe construct of the Latino community, thanks to our virgin ears and eyes wide open willing to absorb everything our new environment has to offer with the hunger of a newly unpacked sponge. One of the things I found most fascinating when I first got into the U.S. was the difference between those Latinos born in the US and those of us who arrived to these shores for whatever reason. Seeing the evolution of the Latino generations is puzzling and mesmerizing at the same time, like a time tunnel of what we would eventually become if we could live forever.
There is a lot of heartbreak especially among the first generations who see their children and grandchildren refusing to speak Spanish or not speaking it properly, sometimes with a bit more than a mild accent, and just showing a lukewarm if courteous interest for their dearest traditions.  Tattoos! boys with hearings! !Ay Dios mío! Such is the price of immigration and if you ask me it is a good thing, or at least is tremendously interesting to see cultural evolution in action. There is plenty of preservation of the old stuff back in the motherlands.
With the easiness that comes with being native, the US born Latinos have acquired for example, a masterful command of Spanglish, one that instead of creating confusion is actually quite helpful unlocking many of those little and annoying mysteries that waited for us at our arrival. No one would ever had to guess again what "hang out" means after hearing Manny saying -we are going to be "hangeando" por aquí-. Mystery solved! Actually the hardcore Spanglish creates other type of confusions itself but we don't need to go there today.
But is this embracing of an unofficial made up language, or of sports, music, history and traditions foreign to our own for that matter, a symptom of a progressive abandonment of our roots? Hardly. Actually I think it's quite unrealistic, unfair and inconvenient to ask these kids to remain 100% true to our origin, after all they are as much Americans as they are Latinos and they certainly have plenty of reasons and incentives to feel so. One of the worst mistakes that any group of migrants can make is to isolate themselves and their children from their environment and circumstance. That is what gives a negative connotation to the word "alien" and creates rejected ethnic groups.
Fortunately for Latinos, as well as for the gain of the whole nation, we are not a kind that isolates itself from anything, which in this particular case is a good thing. I didn't grow up here and in that particular respect I will always be an observer but what I am witnessing is not the decline of a culture but rather the birth of a new one. ¡Viva la evolución!

I am 62 years old, and I clearly understand what this writer is saying. In a sense, the writer has told my experience as a Hispanic American. Yes! Historically, I have questioned my identity from time to time, but it only took place when being addressed from others, both different and similar. However, when it came to my personal questioning, I said to myself "I fit in because I learned how to connect." Learning to talk properly in both English and Spanish is rewarding. It facilitated me with the skill to attract the social demand. It has helped me in understanding and accepting those factors both new and different, so needed in making right life choices. I advanced my social skill to ease myself in cross-cultural settings. These talents help me in finding the good place in life. They teach me how to pick out my appropriate social know-how and to present myself welcoming to others. It works because people generally find me friendly and easy to be with. At the end, my attitude, made a wonderful difference through the years. I have one offer; advance your personal self and way of life. It will teach you how to fit in without changing your uniqueness.
Are you sure you want to delete this comment?
Simón Gómez

Political junkie, loud mouth extraordinaire, and a born gear head, Simón found himself in Miami after 11 years of practicing law in Caracas and being a good ole boy. While always attuned to American culture, his heart is firmly rooted in the Latino community. Simón wrote for three years the car pages of Maxim en Español and has been freelancing for MSN Latino since 2011. Simón divides his time between his two dogs, his production work, and his writing.