Knee-Jerk
As strange as it may have been, Sen. Marco Rubio's reaction to the leaked Obama's immigration reform plan, shouldn't have surprised anyone.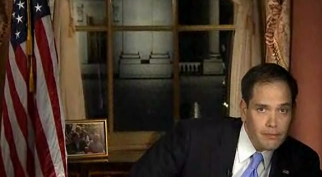 Oops, looks like Marco Rubio has put his foot in his mouth once again.
By leaking President Obama's Immigration Reform Plan to USA Today, the White House was sending a very clear and plain message to the four Republicans in the Gang of Eight working on the immigration reform bill: Be advised that if you intend to screw with us again, this time we are ready.
The White Hose learned this lesson in a very bitter way in 2009 while trying to push through a bipartisan health care reform bill. But after months and months of negotiations, Senator Chuck Grassley (R-IA) turned his back on the bill eliminating all hopes of bipartisanship and delaying the bill. Grassley, who up until then was considered a reasonable person, went to the extent of parroting Sarah Palin's idiocy about Death Panels despite having been intimately involved in the drafting of the legislation and in close contact with Obama throughout the process.
Marco Rubio made a knee jerk and in hindsight pretty embarrassing response to the White House's leaked plan by calling it "dead on arrival." The trouble you see is that the White House plan is no different than the bill Rubio and the others in the Gang of Eight are proposing. Rubio's been making a lot of slip-ups lately. I honestly don't think the White House intended to expose Rubio in such a blunt way, but now it's been done. Rubio's reaction underlines and in some ways justifies the White House's mistrust in Republican legislators and its need to let the American people know that the President is ready to step up if Congress once again fails to deliver.
And who could blame the White House when the Republican star of the Gang of Eight was so openly opposed to the DREAM Act, voted against the Violence Against Women Act and is so patently . . . how could I put it? . . . Thirsty, for notoriety.
What do you think?
Follow Latinzine and Legal Alien on Facebook.
Are you sure you want to delete this comment?
Simón Gómez

Political junkie, loud mouth extraordinaire, and a born gear head, Simón found himself in Miami after 11 years of practicing law in Caracas and being a good ole boy. While always attuned to American culture, his heart is firmly rooted in the Latino community. Simón wrote for three years the car pages of Maxim en Español and has been freelancing for MSN Latino since 2011. Simón divides his time between his two dogs, his production work, and his writing.