Invasion of "la música de Navidad"
Why hearing the same songs every year makes me go "Bah, humbug."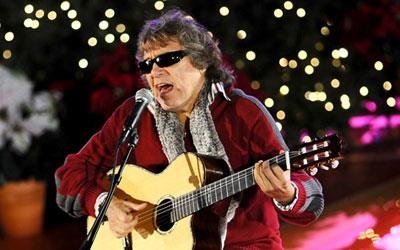 By Juan Carlos Pérez-Duthie
The first signs creep up on you around Halloween. The carved pumpkins haven't even been dumped in the trash and already there are Christmas decorations popping up in the stores.
As Thanksgiving Day approaches, things get serious.
The onslaught of holiday-inspired commercials is relentless and inescapable. Black Friday becomes only the prelude to what follows next - a month of commercially induced holiday spirit that features a bombardment of Christmas songs on the radio.
By then, I have turned into a full-blown Scrooge. Yeah, let me run over Grandma with a reindeer, please.
Christmas music nowadays is just one more grim reminder of the feverish pressure from all around that you better watch out and better buy everyone a gift 'cause Santa Claus is Coming to Town.
But at least in the English-language music market if I hear Bruce Springsteen sing that St. Nick ditty one more time, I don't have to lose all faith and hop on a camel to disappear in the desert. Most likely, someone will put out a new cover version of the song this season. And it may be the equivalent of a rock-hard fruitcake, but at least there's an attempt to offer something fresher than the usual.
It's become sort of a ritual that many Anglo artists release either a holidays-themed song or album each year. In doing so they help spruce up a catalogue of music that, although ample and beloved, seems it got its last original modern-day hit in 1984 with the Band Aid Ethiopian famine relief worldwide hit Do They Know It's Christmas.
Still, this year look out for ho-ho-ho offerings from the Backstreet Boys, with It's Christmas Time Again; Rod Stewart and his Merry Christmas, Baby; the unexpected pairing of Olivia Newton-John and John Travolta in This Christmas: John Travolta & Olivia Newton-John; and more music to slurp down your eggnog with Cee Lo, Colbie Caillat, Lady Antebellum, and Blake Shelton, among others.
Why then, can't this be the norm in the Spanish-music industry as well? It does happen, but on a much lesser scale. 
Thus, we are subjected to listening to radio programmers playing, for the gazillionth time, José Feliciano's Feliz Navidad. I mean, yeah, the song is a classic and Feliciano is a legend, but come on, he has covered many other Christmas songs. He even has a whole album titled Feliz Navidad. Can't DJs be más originales or daring and give us the gift of something different?
Who in all honesty jumps for joy when he or she hears El burrito de Belén (Mi burrito sabanero), seemingly sung by every living Hispanic singer on the planet?
Why aren't villancicos heard more, performed in new ways and by new artists? Darn, I would even welcome Chelsea Handler's little sidekick Chuy Bravo performing some of these.
Not all is lost however. The Three "Reyes Magos" have not forgotten about us.
Cuban favorite Willy Chirino has just released En esta Navidad (Sony/Latinum/Eventu​s), the first Christmas album ever in his long career. Starbucks has Roja y Blanca Navidad 2012, a compendium of old chestnuts given new life by the likes of Afro-Peruvian star Eva Ayllón. From Puerto Rico, probably the masters at celebrating Christmas, there are CDs like Parranda del coquí and Fiesta Navideña (check them out at Taller del Cuatro Puertorriqueño, http://store.tallerd​elcuatropr.com/mnude​na.html).
Question is, will Spanish-language radio programmers vary the buffet this year, or will they subject us to the same tired music and have us choke on our lechón? If they do the latter, I know what they deserve this Christmas: a bag of coal. 
Are you sure you want to delete this comment?
Juan Carlos Perez Duthie

With some 20+ years of experience covering the music and entertainment industries as a bilingual journalist in the U.S. and abroad, Juan Carlos always gets a kick out of listening to any great new song.