Bebo Valdés, another music "grande" gone
It may sound clichéd, but they really don't make them like they used to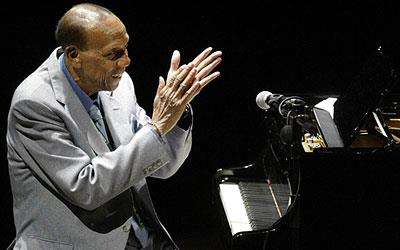 By Juan Carlos Pérez-Duthie
In 2002, pianist Bebo Valdés won a Latin Grammy award for his album El arte del sabor, orThe art of taste. It could've easily been named The art of music, however, because that's precisely what this legendary Cuban musician, composer, and band leader made: music as art.
On Friday, March 22, that music, that art, came to an end.
Ramón Emilio "Bebo" Valdés (pictured above) died in Sweden, far away from his native town of Quivicán in Cuba, at age 94. It's been reported that he had Alzheimer's disease and that his health had deteriorated considerably in the last few years. With his passing, Latin jazz, Afro-Cuban music, Latin music in general, loses one of its biggest names.
While still in his teens, Valdés went to Havana to study in that city's music conservatory. His big break came when he was hired to play with a popular orchestra at the famous Tropicana nightclub, in what was then the golden age of Cuban music, and an unforgettable and ebullient time for Latin rhythms.
A time of big bands, big sounds, and big names, and Valdés would be a part of all those. But instead of going to play in the States, he would meet American musicians and artists, stars such as Nat King Cole, as they came to play at the Tropicana, befriending him and jamming with him.
Valdés was one of mambo's pioneers, but he also developed a rhythm called batanga, which made use of the sacred batá drums, an intrinsic element of the Afro-Cuban Yoruba belief system. With his orchestra Sabor de Cuba (Taste of Cuba), he was signed to the Verve record label, recording its first Afro-Cuban jazz session.
His life changed dramatically after the 1959 Cuban revolution. Valdés decided not to stay in Cuba, and so he moved to Mexico. After playing in Stockholm, Sweden, in the early 1960s, he found a new home there (and a new family; he already had children in Cuba). The distance from his island also meant the distance from one of his kids, Jesús Dionisio "Chucho" Valdés, who would follow in his dad's footsteps and reach his own level of musical fame.
They had their differences, and thus their relationship remained strained for many years. But then, something interesting happened in the 1990s. After decades of playing in hotels and other Swedish venues in relative obscurity, the elder Valdés began to be rediscovered and recognized. First, he recorded an album in 1994, Bebo Rides Again, along with other important performers who had also left Cuba.
Then came a documentary on Latin jazz by Spanish director Fernando Trueba, Calle 54, from 2000. Not only was he now being introduced to new audiences the world over, but he was also reunited with his son Chucho.
A productive period of critically acclaimed and commercially successful albums followed, especially the award-winning Lágrimas Negras (Black Tears, released in America in 2004), which was produced by filmmaker Trueba and recorded with Spanish singer Diego "El Cigala", fusing Cuban rhythms and flamenco songs. A documentary on his life, Old Man Bebo, came out in 2008. In all, he would win multiple Grammy and Latin Grammy awards.
Valdés spent his last years in Málaga, Spain, before heading back to Stockholm a few weeks ago. His last musical production was one fittingly recorded with his artist son: 2009's Bebo y Chucho Valdés: Juntos para siempre (Bebo and Chucho Valdés: Together Forever).
Perhaps not forever in life, but in music. That's the only consolation we get when a great one dies: his or her legacy of work. 

A music lover myself-especially jazz-I am ashamed I don't recall Bebo, though I had probably heard him on records without knowing it. I certainly remember Perez Prado and his big band ! I researched Bebo yesterday; he was definitely unique and a good jazz pianist-My he rest in peace and keep the Cuban rythyms going in Heaven !
Are you sure you want to delete this comment?
Juan Carlos Perez Duthie

With some 20+ years of experience covering the music and entertainment industries as a bilingual journalist in the U.S. and abroad, Juan Carlos always gets a kick out of listening to any great new song.