Will other Latino artists come out of the closet?
How no one else has followed in Ricky Martin's footsteps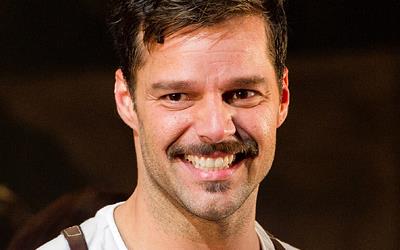 By Juan Carlos Pérez-Duthie
The music industry still lags behind Hollywood in one aspect: the number of performers who come out of the closet as gay or lesbian and the frequency with which this kind of news seems to occur.
And when it comes to the Latin music industry, forget it. There the subject is not about being in a closet; it's more like living in a subterranean bunker.
Seems every month a new actor or actress in Hollywood reveals his sexuality. They come out either in a strangely veiled and very public manner like Jodie Foster recently did at the Golden Globes or in a very casual, no-big-deal manner like TV's Jim Parsons from The Big Bang Theory did in an interview last year.
Musically speaking, it was African American singer and songwriter Frank Ocean whose announcement via his Tumblr blog last summer that had the digital universe aflutter. Especially because in the hip hop world, the belief has always been that being a rapper and being gay simply do not fit in the same sentence.
In the music business in español, however, things move at a glacial pace.
At one point I expected that perhaps with Ricky Martin's coming out, a few more performers would follow his path. Martin's announcement re-energized what was a moribund career in the States (he's always retained a strong fan-base in Spanish-speaking countries) and proved wrong his coterie of publicists, staff members, etc. who told him over and over not to come out. He even proved himself wrong.
I thought coming out could only help him. Why? The George Michael effect. The former Wham! singer risked becoming an 80s relic when his sexuality became vox populi in 1998. And this was not because he volunteered the information, but because of an unfortunate incident.
But that brought him headlines such as he hadn't enjoyed in years and restored, believe it or not, some new relevance to his public persona. Simply put, he had nothing to lose, just like Martin.
And yet, after the former Menudo member admitted what everyone within the industry and the press knew, and what many fans suspected, no other major Latin artist followed in his footsteps.
Whenever I interview a singer suspected of being gay, I don't play the game of asking them who they're dating if they proclaim to the whole world that they're seeing a particular woman. Especially if she's really a "beard" – or cover – like many people assumed Martin's girlfriend, Rebecca de Alba, was.
There are of course a few other "out" performers one can list such as former RBD member Christian Chávez and also fellow Mexican singer Fedro. One knows of yet others whose orientation was not exactly a secret, such as Chavela Vargas, and Juan Gabriel. Did those suspicions affect their careers? No. Both Vargas and Gabriel are icons.
Rumors have floated around for years about Puerto Ricans Manny Manuel and Lucecita Benítez. Would people not buy their music if they revealed themselves to be gay? I don't think so. Their careers have sputtered for many other reasons. Plus, speaking from experience, I've never not bought an album or a song because I may think the singer is or is not homosexual.
I don't believe the issue is so much about whether such a revelation would hurt the artist financially, but about his or her public image: an image carefully constructed to appeal to the broadest audience possible.
That is a flawed approach. One need only to see what Elvis Crespo astutely did to understand where that line of reasoning fails.
The Puerto Rican merengue star's career had not gone suavemente in recent years with a whole lot of personal bochinches and a musical genre in crisis. Then, although straight, he embarked on a tour of gay clubs, expanding his audience, and talking about acceptance. Bam, Crespo began his way back up.
Female Hispanic performers whose careers have found themselves in the doldrums know they can always rely on their gay fans. Just ask Lucía Méndez and Iris Chacón. But Crespo's stroke of brilliance was doing it as a heterosexual man embracing his gay fans.
Newcomer Andrés Cuervo, a Miami-based, Colombian singer who has been coy about his own sexual orientation, has been able to carve out a career so far by touring mostly gay clubs.
Will there be others coming out soon? Hard to tell. But, with the fight for gay rights in this country, the victories of the gay-rights movement in the past few years, so many issues that affect homosexuals and lesbians discussed by the media, and America's changing attitudes towards same-sex marriage, I think Latino performers who remain en el armario risk a future of becoming anachronisms.
Do you agree or not? What's your take on this?
Are you sure you want to delete this comment?
Juan Carlos Perez Duthie

With some 20+ years of experience covering the music and entertainment industries as a bilingual journalist in the U.S. and abroad, Juan Carlos always gets a kick out of listening to any great new song.