Two musical talents rescued from oblivion
An Oscar caps a story of rediscovery for one, while a revival in his country takes place for the other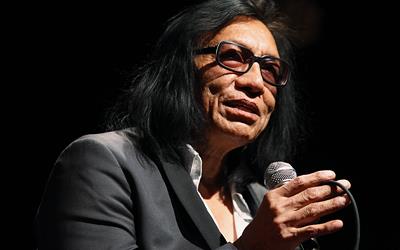 By Juan Carlos Pérez-Duthie
How bittersweet it can be for singers with talent and promise to be recognized late in life. Or in death. Though, I guess it's better late than never.
And that has been the case of Brazilian musician Tim Maia, who died too soon at age 55 in 1998, and of Mexican American Sixto Rodríguez, age 70, who is just now starting to enjoy fame. Rodríguez is still performing and getting the recognition in the US that he had mostly only experienced in South Africa.
Rodríguez got attention at this year's Academy Awards when a documentary based on his life as a folk musician, Searching for Sugar Man, won an Oscar for best documentary. The film discusses how Rodríguez recorded only two studio albums (both in the early 70s), toured Australia briefly, and then became a mega star in South Africa during the era of apartheid. Thanks to this film, he is now experiencing a process of rediscovery.
In case you missed the 85th edition of the Academy of Motion Picture Arts & Sciences Awards on Feb. 24, the theme was music in the movies. And amidst the telecast's typically interminable length, a dreadful introductory montage by host Seth MacFarlane, and a slew of mostly lame or tacky jokes throughout the evening, there were some show stopping musical performances among the invited singers. Particularly, Dame Shirley Bassey, celebrating 50 years of James Bond movies with a rendition of the theme song that made her famous back then, Goldfinger; Jennifer Hudson, showing why she's still a Dreamgirl; and Adele, performing, and winning an Oscar, for her Bond theme Skyfall.
But it was the win of the documentary based on Rodríguez that really caught my attention. Because, in keeping with the low-key, elusive nature of this seemingly reluctant artist, he was not there in the audience to partake in the victory of the movie.
Born in Detroit to Mexican immigrants who came to this country in the 1920s, Rodríguez has always led a hard working-class life driven by his desire to act on behalf of his community and peppered with those sporadic musical successes.
During the height of the odious apartheid policy of racial segregation in South Africa, some of his songs became anthems of the oppressed, making him a legend with his even knowing. The documentary shot by Swedish director Malik Bendjelloul follows the efforts of two South African fans that wondered whether their hero had passed away or what had become of him.
Thanks to all the accolades the documentary has earned including an Oscar, more people the world over will get to know this Latino performer who at one point seemed destined for oblivion.
That also seemed to be the case of Tim Maia, whose story The New Yorker magazine recounted recently in its January 28th issue. Maia, considered one of the pioneering exponents of Brazilian soul/world music, lived in the U.S., specifically in Tarrytown, New York, in the early 1960s.
Here he sang with a group called the Ideals and recorded only one song with them, New Love. But shortly thereafter, he got busted in Daytona Beach, Florida, for "smoking pot in a stolen car," and was deported back to his native country, according to the article.
At home, his music career went on until he died unexpectedly of a heart attack onstage. A major fan of his in America, Allen Thayer, however, heard about the recording Maia made in the States and decided to find out what had happened to it. He was able to contact the track's cowriter, and a member of the Ideals, Roger Bruno, who in turn reached out to a former girlfriend who had the original single acetate. The song still lived.
Suddenly in Brazil, there is a biography out about Maia, a musical based on that book, and a movie in the works as well. World-music label Luaka Bop, from former Talking Heads frontman David Byrne, released a compilation of Maia's work last fall, Nobody Can Live Forever.
Indeed, perhaps nobody can live forever, but through their music, they may get a good stab at immortality.

Sixto Rodriquez -What a story- I was born and raised in Detroit-became an alcoholic-now sober in AA over 28 years. Loving Mex-Americans and their music and culture I many times ended up in the Barrio bars miserably drunk but happily drenched in their music, and self-deprecating humor. I shamefully admit I can't remember Sixto who is 15 years younger than me, but who knows , maybe I had met him and just can't remember him....I wish I had ; he is a special man  and child of God !
Are you sure you want to delete this comment?
Juan Carlos Perez Duthie

With some 20+ years of experience covering the music and entertainment industries as a bilingual journalist in the U.S. and abroad, Juan Carlos always gets a kick out of listening to any great new song.