Still asking about Madonna, "Who's That Girl?"
While many "fanáticos" continue to fall into the groove for Madonna, I'm on the borderline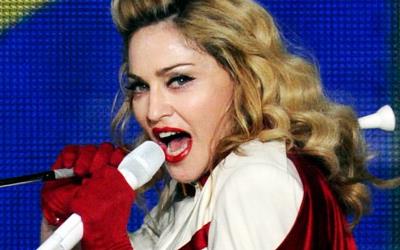 By Juan Carlos Pérez-Duthie
Sshhh Madonna. Cállate y baila.
Or, echoing the words of a fan on YouTube who was present during one of Madonna's new MDNA shows and could not endure anymore of her babbling: "Shut up and dance!"
Instead of Papa Don't Preach, seems Madonna Don't Preach is more suitable.
Because that's what Madonna Louise Ciccone has taken to doing while in concert throughout a worldwide tour that on November 24 descended in Mexico City, launching the Latin American leg of her sojourn.
She speaks her mind, which is not always a good thing, even if she says she's being ironic. For example, referring to Obama as "a Black Muslim in the White House." Ummm, right.
I still remember when Madge first expressed herself on the music scene. It was with the video of Material Girl (1984), the images and lyrics of which would come to identify her forever. Perhaps much more than she ever intended.
Three decades later, she keeps churning out music, selling out tours, and courting her lucky star. Except that, in the last few years, something has happened. Her attempts at scandal have become … reductive. Controversial Madonna is no longer en vogue.
Of course, it was bound to happen. It's human nature. By becoming part of the mainstream she once so joyfully defied, Madonna lost her cutting edge. Now when this 54-year-old divorcée and mother of four pulls stunts like she's been doing during the MDNA tour, mooning the audience or showing a breast, she comes across as desesperada.
Madonna, querida, with your spectacular catalogue of dance music, your ability to morph into different personae on stage, and your generally eye-popping shows, you really do not need to do this. No one is saying you have to take a bow and exit music. But seriously.
And you also don't need to continue messing with your visage. Remember that hit of yours This Used to Be My Playground? One day you'll end up singing This Used to Be My Face.
Let me just say right now that I'm all for plastic surgery, if done well, and that means, in my book, minimally and to enhance what may need fixing. Not to distort yourself.
But where did all of Madonna's focus on inner strength, self-reflection, and spirituality, of which she sang most fully and beautifully in what is perhaps her best album yet, Ray of Light, go? Straight into the trashcan of her plastic surgeon's office, I guess.
Look at her chipmunk cheekbones now. Cherish her in that cheerleading outfit singing Give Me All Your Luvin' with what is known as a "pillow face." None of this matters to her fierce fans though, who call her "the Queen" (roll eyes), and are probably willing to mortgage their homes to see her perform. And Latin America won't be an exception to the MDNA tour.
After Mexico and Colombia, Madonna heads to Brazil, where she has several dates, beginning with Rio de Janeiro on December 2. On the 13th and 15th she's in Buenos Aires. And so on.
Now, let's take one case and briefly analyze what it will cost to see Madonna on stage in Argentina. Prices start at 250 pesos for general admittance, or US $51. Most likely those tickets will be gone in a snap if they haven't already. When you go to her official website and click to buy a ticket, what you find is that many of the areas listed are selling entradas for 1,600 pesos, or US $331.
That price is expensive for someone in the States, but now imagine a country where poverty and low wages are much more pronounced than here.
According to a July 7 story this year in La Nación, probably Argentina's most important and respected daily, the average monthly salary in that country is US $655. So for half of that, you can go see Madonna try to cause a commotion with something like a Girl Gone Wild, featuring a corps of male dancers dressed like chanting monks on high heels. The boys are cool, but this religious/Catholic obsession of hers is downright boring at this stage of the game.
Yo no sé but, couldn't she, as one of the wealthiest entertainers in the world, give a few shows gratis? Even closer to home: during a recent New York City concert she said she wanted people to aid the victims of Hurricane Sandy, and she would drop trou if those in attendance threw some money at her. How about putting on a benefit event to help those victims? Would be a nice gift, and then she could live out her Evita fantasies. Madonna, show us, for once, that your heart is not really frozen. 
Are you sure you want to delete this comment?
Juan Carlos Perez Duthie

With some 20+ years of experience covering the music and entertainment industries as a bilingual journalist in the U.S. and abroad, Juan Carlos always gets a kick out of listening to any great new song.