As "cursi" as they want to be
Why is it that so many love songs in Spanish are… cheesy?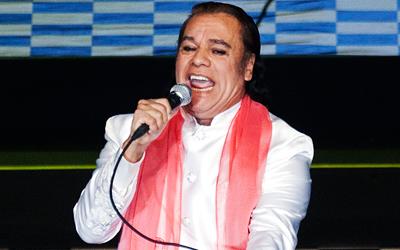 By Juan Carlos Pérez-Duthie
That chubby little cherub may be responsible for inspiring some of the best love songs ever… and some of the worst.
And when he does it in Spanish, well, one never knows what Cupido is going to come up with. Because Spanish can be so florid  - or so sexy when accompanied by the right accent - that it very well may be the language of love (Francophiles, don't get all bent out of shape). Pero... Spanish can also be a supreme vehicle for singers to be as corny, cheesy, or affected as they want to be.
There's even a word in Spanish that I like more than any of these, a word that is perfect for describing the maudlin and treacly nature of so many canciones…
Cursi. The word is perfect. No wonder Puerto Rican band Circo, one of my favorites, used it as the title of one of their albums.
To be cursi, though, is not bad, don't get me wrong.
I, like everyone else, appreciate some of these songs. It's good to feel that your heart is tugged at every once in a while, or that you unabashedly proclaim love by repeating the words of a particular track while you're stuck in traffic and are trying to keep sane. Even to wipe a tear when that radio hit so clearly manipulates your feelings, but still, you go for it.
The key here, though, is, like with everything in life, mo-de-ra-tion.
Who then are some of the "cursi-est" performers around, those that on Valentine's Day exert an irresistible attraction on many, like a curse really, to play their songs or to quote them?
There are bands that, whenever I hear them, already let me know that "love is in the air: Camila and Reik (although I must add that the last few songs that Reik released have attempted different sounds, not just sugary ballads) are two of those.
Some performers have also become experts at this kind of song, many a time written by composers who seem to thrive on clichés. Frequently too the singers themselves have been the authors. Here, in no particular order, are some of those artists who have ridden down that Tunnel of Love (thanks Bruce Springsteen): Juan Gabriel (pictured above), Luis Miguel, Myriam Hernández, José José, Cristian Castro, Yolandita Monge, Angela Carrasco, Ednita Nazario, Luis Fonsi, Roberto Carlos, Sin Bandera, Raphael, Maná, José Luis Rodríguez "El Puma", Alejandro Sanz (he's borderline), Thalía, RBD, Shakira, Raúl di Blasio, Axel, and the list goes on and on…
Of course, this doesn't mean they are like this all the time, but that they have become quite proficient in the amount of music they put out that deals with love and heartbreak and everything in between, and often the music is so bombastic and the lyrics so sappy or overloaded that you probably think you're going to have a sugar rush and a crash.
And yes, moments come our way when we may need just that. Moments like, well, Valentine's Day, when you feel like going out to a – cursi alert! – nice candle-lit dinner with a view of the ocean, a bottle of wine, and Bésame Mucho playing in the background.
Or… maybe not.
What do you like on El día de los enamorados or Día de la amistad or Día de San Valentín? Any preferences? Gotta run now. Going to go play my Pimpinela albums. 
Are you sure you want to delete this comment?
Juan Carlos Perez Duthie

With some 20+ years of experience covering the music and entertainment industries as a bilingual journalist in the U.S. and abroad, Juan Carlos always gets a kick out of listening to any great new song.