Is This The Most Outrageous Voice Ever?
Why you need to know Yma Sumac, if you don't already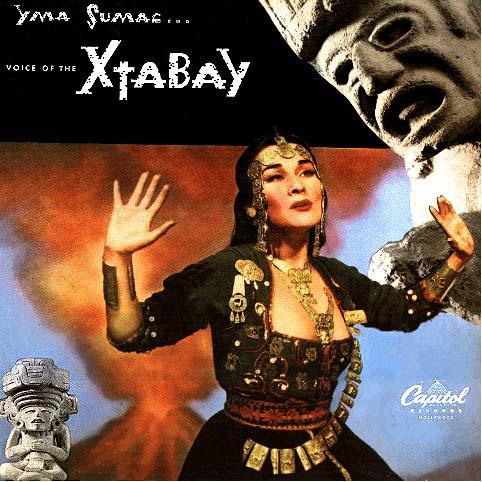 By Juan Carlos Pérez-Duthie
To say she was exotic, would be putting it mildly.
On November 1st, 2008, one of the most distinctive and unusual voices ever to have been recorded became silent. That day, Peruvian singer Yma Sumac died at age 86 in Los Angeles, California.
Yma quién, you said?
Go to your favorite digital music store and check out some of her songs, or enjoy them with photos or clips on YouTube: Chuncho, Taki Rari, Babalú (wait till you hear that version), Gopher Mambo, Goomba Boomba.
California was home for a great part of her adult life (her breakthrough show in the U.S. took place at the legendary Hollywood Bowl), but she never forgot about her native country.
She left Peru in the 1940s as Zoila Augusta Emperatriz Chávarri del Castillo to travel throughout South America under the stage name Imma Sumack. Eventually she ended up in New York City with the Inka Taky Trio before finally becoming Yma Sumac. But after years in the U.S., Sumac returned to Peru in 2006 for a very much deserved and long overdue homage.
Then Peruvian president Alejandro Toledo presented her with the Orden del Sol award, and the Universidad Nacional Mayor de San Marcos awarded her the Jorge Basadre medal.
Perhaps some of her countrymen had been late to recognize what millions had discovered about her decades ago, when she flourished as an international artist in the 1950s and 60s.  That Sumac had an out-of-this world vocal range – close to a 5-octave range! (most singers hit two only) – but was as enchantingly enigmatic as the mostly inscrutable lyrics she sang. And chirped. And growled. And trilled.
So unbelievable were the sounds coming out of her mouth, that skeptics - unable to knock down her vocal prowess - floated the tale that in reality she was an American woman called Amy Camus. Camus, they claimed, came from Brooklyn and spelled her name backwards. A clever, fun, if untrue story, and certainly no match for the yarn Sumac herself spun about her beginnings as an artist.
In this, Sumac, along with her bandleader and producer/husband Moisés Vivanco, and the creative minds at Capitol Records, conjured up a mystical tale in which reality and fantasy meshed flawlessly if outrageously.
Sumac, you would find out from her records' liner notes or in the press, was a direct descendant of the last Inca emperor, Atahualpa. The Sun Virgin. A living goddess who grew up in the jungle (she originally hailed from the seacoast city of Callao in Peru) and learned how to sing by listening to birds and other creatures.
Add to this cocktail her exotic beauty, her accent, and of course, her oftentimes glamorous but over-the-top gowns or Inca-inspired regal attire, and you had a true entertainment star.
A star that began her ascent in the U.S. in 1950 with Capitol and her debut album, Voice of the Xtabay (picture above), produced by American musician, composer and legendary exotica and lounge music figure Les Baxter and Vivanco.
By the way, if you're wondering what the heck is an Xtabay, from what I've found, it's been described as a "Mesoamerican demon" (ironically, not Inca), or as "the most elusive of all women." That album became a bestseller and reached the top of the charts.
The following year, Sumac was part of the musical Flahooley. Hollywood too knocked on her door and put her in two movies, Secret of the Incas (1954) and Omar Khayyam (1957).
In the 1960s, her wattage in America began to dim and audiences seemed to care less for her mix of Andean music, South American folk songs, and exotic sounds. Sumac found renewed success, and fans, however in the Soviet Union, Europe, and Latin America.
Trying to keep up with the times, in the 1970s, the basso-soprano who could've been a superb opera singer but preferred doing things her way, released a rock album titled Miracles. It is indeed a miracle that anyone would remember it today, but it has become a cult classic.
The late 1980s saw a resurgence for Sumac that continued through the 1990s. Lounge music was in vogue again, her albums were reissued on CDs, and she embarked on a limited engagement tour that brought her to Miami Beach. I was able to interview her and meet with her during the show, in which she proved that she still had plenty of her range intact. Even if she had to make some effort to hit the high notes.
Of her last songs one can mention the perfect version of I Wonder, from Sleeping Beauty, part of a 1988 album of Disney songs (Walt Disney, in fact, was a big fan of hers), and a rare club track recorded in 1991, Mambo ConFusion. Sumac, however, had apparently made a lot of recordings that were not released, and so more music is coming out. This year has seen two new CDs, one is The Final Recordings, and the other, interestingly, is of opera arias.
Had you ever heard of Yma Sumac? If not, tell me what you think. And if you have, do the same. 
Are you sure you want to delete this comment?
Juan Carlos Perez Duthie

With some 20+ years of experience covering the music and entertainment industries as a bilingual journalist in the U.S. and abroad, Juan Carlos always gets a kick out of listening to any great new song.